Another day of fresh Northerlies saw a little more in the way of migrants on the island. A
Red-throated Diver
, two
Leach's Petrels
(one of which was trapped overnight), four
Arctic Skuas
, three
Great Skuas
, two
Common Gulls
and nine
Sandwich Terns
passed by at sea. Five species of raptor during the day included singles of
Peregrine
,
Sparrowhawk
,
Merlin
,
Hobby
and
Kestrel
. A
Skylark
, 99
Meadow Pipits
, four
Grey Wagtails
, 11
White Wagtails
, three
Blackcaps
, 22
Chiffchaffs
, four
Willow Warblers
, 20
Goldcrests
, five
Spotted Flycatchers
and 34
Chaffinches
represented passerine-migrants inland.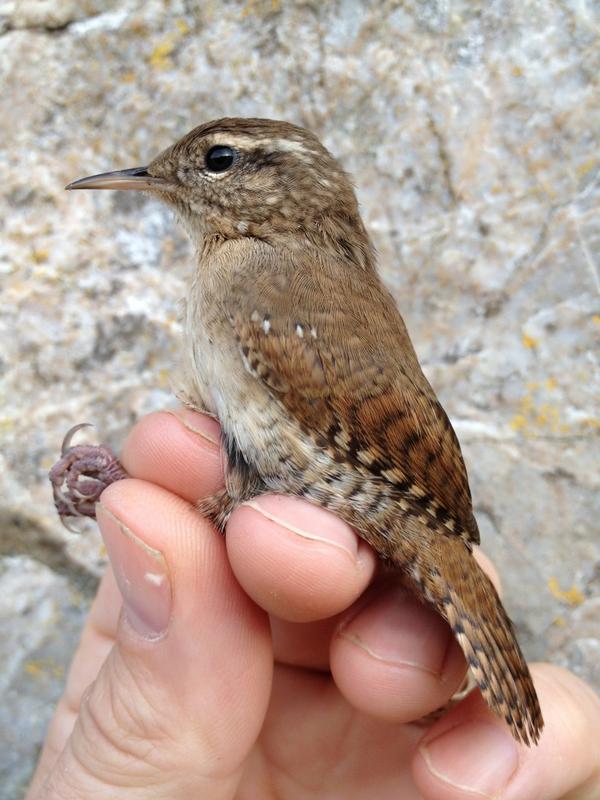 This pale looking wren was trapped at Cristin this morning. It was probably not of local provenance. Unlike our Wrens, it managed to get trapped in five different mist nets during a 2 hour session. The local birds know where the nets are and are rarely trapped!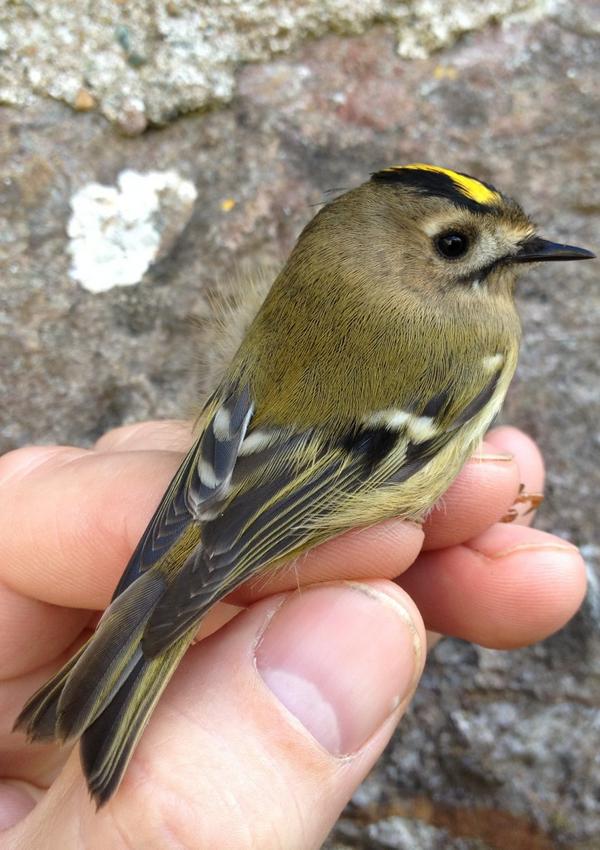 Several Goldcrests were trapped during the day too
Elsewhere on the ringing front, the portable Heligoland trap was set up on a strip of seaweed in Solfach in the afternoon. Seven Rock Pipits were trapped as part of an on-going colour-ringing scheme on the island; a Meadow Pipit was also caught.
The portable heligoland, now four years old, works very well with the less wary Rock Pipits, although wagtails and waders do not venture as far in
Rock Pipit
A selection of the colours added to the legs of the Rock Pipits-
To report sightings the colour and positions of each ring needs to be noted and on which leg the metal ring is on.
Rock Pipit on the left with a lovely Meadow Pipit
All of the Rock Pipits trapped today were juveniles. On this Meadow Pipit, ageing was straight forward with the new Inner Greater Coverts contrasting with the old ones. Another young bird
Since the colour-ringing scheme began, 350 Rock Pipits have been trapped, but not a single Littoralis. In the above image the one on the left was thought to be of the subspecies
Littoralis.
This was thought due to the
whiter outer tail feathers (similar to Water Pipit), larger size and paler and greyer overall colour with slightly browner legs