After strong winds and heavy drizzle materialised during the night, the year's first large 'fall' of migrants took place, centred on the South End where many were attracted to the lighthouse.
The highlights of the morning included the first
Grasshopper Warbler
,
Sedge Warbler
, two
Common Redstarts
and
Arctic Tern
of the year, which were all seen around the South End along with a
Ring Ouzel
. The largest numbers of
Wheatears
so far this year were recorded, with flocks of over 45 birds flying over fields and out to sea. The total number seen was estimated at
138
. Almost all of these birds were now of the
Greenland race
.
Warbler numbers were represented in large numbers too: 27
Blackcaps
,
150 Willow Warblers
, 20
Chiffchaffs
and 12
Goldcrests
were seen, along with the year's first
Whitethroat
in Plas Withy. Overhead, six
Sand Martins
, seven
House Martins
and 17
Swallows
were seen, although the strong southerly wind hindered much movement.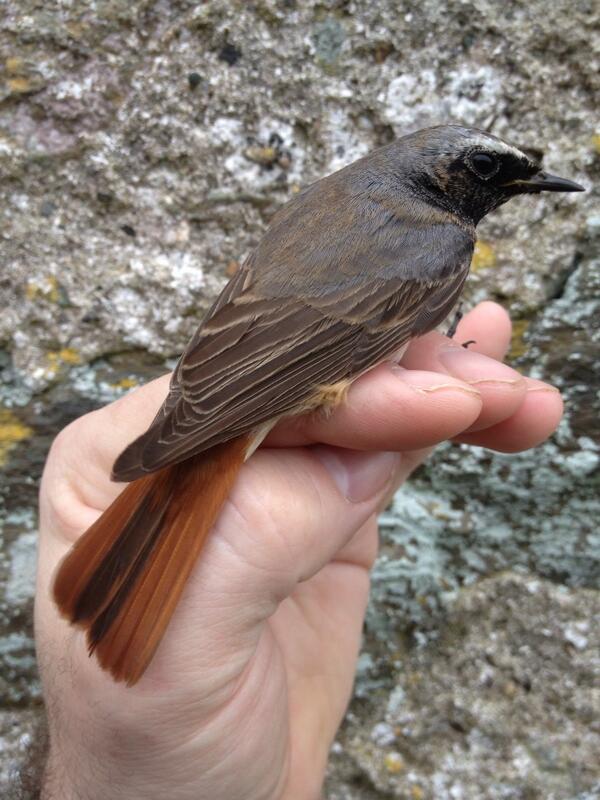 The first two Common Redstarts of the year were both stunning males. One was trapped at Cristin (lower (c) Steve Stansfield)
The gale-force southerly winds obviously prevented much feeding from taking place, with very few insects on offer. Several Blackcaps in the Lighthouse compound were seen huddled together for warmth, presumably exhausted after their journey
There were plenty of Willow Warblers around, although many moved through very quickly
Over 50 Manx Shearwaters passed the South Tip in the afternoon