A good number of migrants were noted around the island on a more productive day today. A cream-crown
Marsh Harrier
, which flew South along the ridge in the early afternoon, was the highlight of the day, being on the second record of the year so far. A single
Sparrowhawk
and
Kestrel
was also recorded.
A total of five
Tree Pipits
were seen along the mountain between Pen Cristin and Nant, whilst 21
Willow Warblers
and six
Sedge Warblers
were scattered throughout the vegetated areas, along with a slight increase in the number of
Robins
.
A passage of
Swallows
saw at least 160 birds passing through, whilst over 50 breeding adults and fledglings were present on the island. Five
Sand Martins
also moved through overhead.
On the wader front, a single
Black-tailed Godwit
flew South along the coast in the afternoon, whilst a single
Whimbrel
was seen in Henllwyn, and seven
Ringed Plovers
, four
Snipe
, a
Dunlin
and three
Redshanks
flew over during the day.
Two Sedge Warblers and seven Linnets were trapped in the oat field near Ty Capel in the afternoon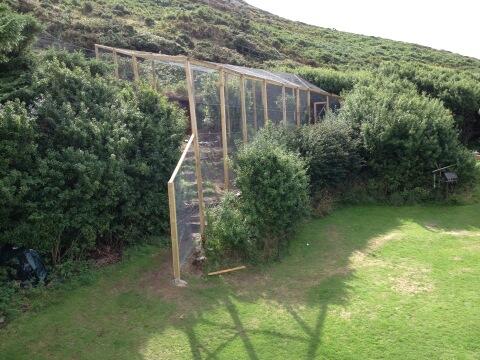 The new Heligoland trap at the Observatory is now pretty much completed and has started catching a few Robins, Willow Warblers and Dunnocks. A massive thanks goes to those who helped with its construction