Clear skies overnight, coupled with the continual reduction in wind strength, meant that a sizeable clear-out of migrants occurred overnight. Despite this, there was a fresh arrival of birds on the island, although in much smaller numbers than yesterday.
A
Little Egret
graced The Narrows in the early hours, which is the second record of the year, but is only the third sighting in two years. A single
Tree Pipit
and two
Garden Warblers
were the only slightly different additions to the usual selection of common migrants: one
Grasshopper Warbler
, 16
Sedge Warblers
, seven
Whitethroats
, three
Blackcaps
and 13
Spotted Flycatchers
were logged, along with a moderate spattering of eight
Chiffchaffs
and 12
Willow Warblers
.
In terms of non-passerines, a dark-phase
Arctic Skua
was seen off the South End, and some reasonable numbers of waders amounted to 13
Purple Sandpipers
, three
Dunlins
, 13
Whimbrels
and eight
Turnstones
.
In other news, one, or possibly two,
Wall Brown
butterflies were found near Plas in the morning, which are the first on the island for a couple of years!
Good numbers of Spotted Flycatchers were seen on the island again today, but not quite as many as yesterday .
Muscicapa striata
is this specie's quite fitting scientific name;
musca
is Latin for 'a fly', and
capere
means 'to seize'. Spotted Flycatchers ringed in the UK have been re-trapped as far afield as Congo, South Africa, Angola and Ghana. You can check out the recovery sheet
here
A large number of Meadow Pipits are currently incubating in their concealed nests around the island
Three pairs of the island's breeding Stonechats have managed to fledge three juveniles each
Green-veined White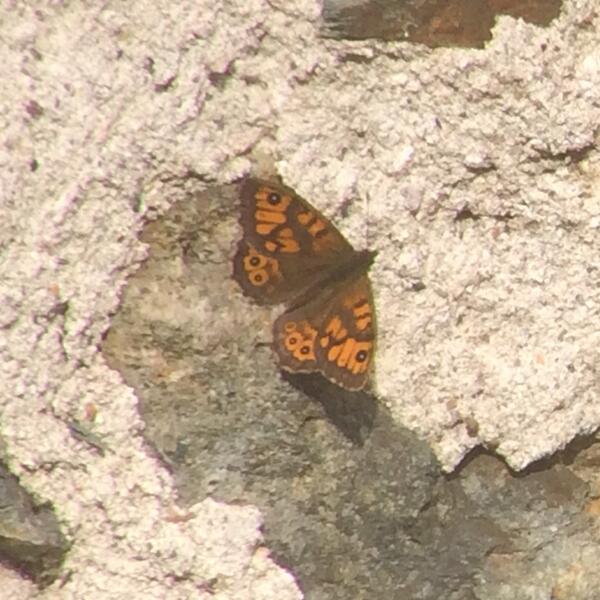 Wall Brown
This micro moth was extracted from the Cristin Robinson trap in the morning, and appears to be of the species Cochylis dubitana, although it is a rather pale specimen. The only previous records of this species on Bardsey are of single daytime records on 3 and 6 June 2012. Foodplants such as Hawkweeds and Ragworts are present on Bardsey, as opposed to the foodplants of this species' similar counterpart
Today's Cochylis dubitana (lower), to compare with a specimen found in June 2012 (upper). Although today's individual appears much paler, Cochylis hybridella should show a much paler thorax
These rather stunning micro moths are appearing all over the island at the moment: Esperia sulphurella