Apologies for the lack of updates on the blog over the last week- but exams have been taking up an excess of time...
News from the week was highlighted by a cracking (male)
Honey Buzzard
, which flew north over Cristin on the morning of the 12th. This is only the third record in about seven years on Bardsey, following two last spring. The
Tree Sparrow
was seen sporadically during the week, making its last appearance on the 12th.
Today, in a similar fashion to almost every other day of the week, was very sunny, warm and relatively calm. There were relatively few passerine migrants apparent on the island, although a handful of new arrivals or passage bird included: two
Lesser Redpolls
, one
Sand Martin
and 20
Swifts
. Breeding birds are certainly the dominant force in terms of numbers at the moment, with at least 100
Linnets
and
Meadow Pipits
around the island comprising larger and larger number of fledged young.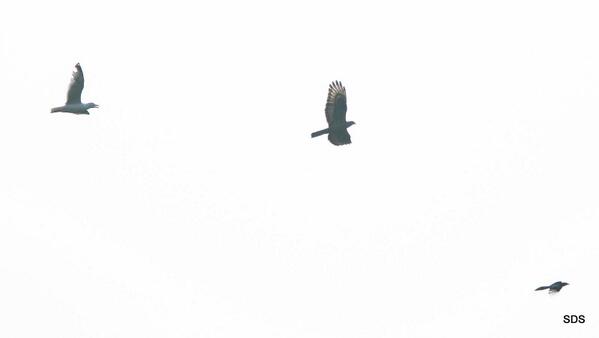 The smart Honey Buzzard from Thursday. The wing tip pattern suggests this is a male
At least two pairs of Whitethroats are feeding young at Nant, and the pair in Carreg Bach garden have two large chicks keeping the demand for insects at a high rate
Robin
Moth news has included some migrants from this week, with Silver Ys, Rusty Dot Pearls and Diamond-back Moths all featuring in small numbers during the day. This Small Fan-foot was found in the New Plantation today. Although it is a common species throughout the UK, it has never been seen on Bardsey before
There are plenty of flies around...here is one a bramble leaf