Generally over the past week, the number of common migrants on the island has been disappointingly low. However, after yesterday's slight rise in migrant figures, it appears that the gusty easterly wind and clear skies have finally done the trick. Today, a fair increase in the number of warblers around was very apparent, along with some very respectable totals of other passerine migrants.
Migrants were most obviously moving through the island between 0800 and 1130, during which time about
819 Swallows
,
231 House Martins
,
278 Meadow Pipits
, 34
Grey Wagtails
, a
Sand Martin
, one
Yellow Wagtail
, two
Blue-headed Wagtails
, six
Skylarks
and a
Tree Pipit
flew south and east over the island. A pipit flushed out of the north west fields sounded like it could have been a
Red-throated Pipit
, whilst a
Wryneck
was seen near Plas, and a
Greenshank
flew around The Narrows.
Chiffchaff
and
Willow Warbler
numbers were similar to yesterday, with about 15 each, whilst single
Redstart
,
Whinchat
and
Lesser Whitethroat
were seen alongside four
Grasshopper Warblers
.
In terms of non-passerines, the most notable records of the day comprised three Teals, a Buzzard, one Sanderling, seven Snipe, four Whimbrels, one Arctic Skua, seven Mediterranean Gulls, 1908 Kittiwakes and a Common Tern.
There were fewer Spotted Flycatchers around today in comparison to yesterday. This particular bird was certainly feeding very well in the calm conditions, successfully catching wasps, flies and this rather impressive Red Admiral!
Tree Pipit
Sexton Beetle covered in mites. Apparently, the mites often use such beetles merely as a means of transport between food sources such as dung. The mites may even help to keep beetle pests down, feeding on small invertebrates in the beetle 'galleries', However, some instances have also shown the mites to be parasitic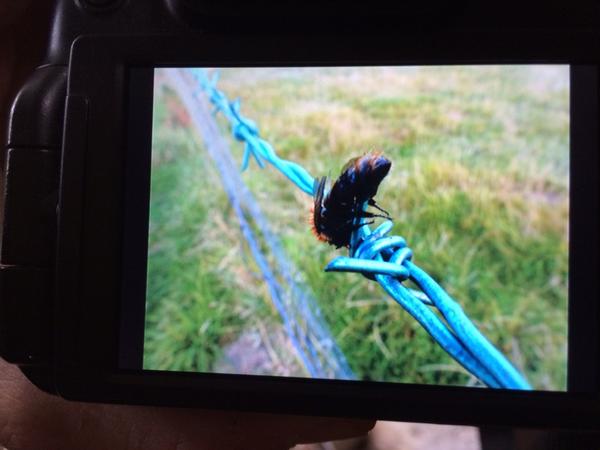 In other news, it appears that we have missed a Shrike!! This bee was found impaled upon some barbed wire at the north end of the island one or two days ago. This is characteristic of shrikes, and is most likely to be the scarce autumn migrant Red-backed Shrike