Its been a great couple of days on the island, with plenty of migrants arriving and moving through. The weather has remained very settled and extremely pleasant, with a light north-east wind accompanying clear blue skies- the weather is certainly making it feel like spring, and is encouraging a more noticeable movement of migrants than the conditions last week.
The first
Sand Martin
of the year was perhaps the highlight of the 18th, although the following day a total of three were recorded flying North over the island. Other visible migration on the 18th included three
Skylarks
,
265 Meadow Pipits
, a
Grey Wagtail
, a
Jackdaw
and a
Reed Bunting
. On the 19th, there was a reduced movement of migrants overhead, but there were sightings of two
Greenfinches
, the year's first
House Sparrow
and two
Fieldfares
. One of the main points of interest during this period was that of the chat and thrush movement: the 18th saw excellent figures of
18 Robins
,
20 Stonechats
,
25 Wheatears
and two
Song Thrushes
; these figures decreased somewhat on the 19th to just seven
Robins
, 13
Stonechats
, 15
Wheatears
, a
Black Redstart
, four
Song Thrushes
and a
Redwing
. Warblers started arriving in earnest during this period too, with 21
Chiffchaffs
and 30
Goldcrests
on the 18th, decreasing to 10 and 12 respectively the following day. The first
Dunlin
of the year was seen in Solfach on the 18th, and two
Common Snipe
on this date had increased to three on the 19th, along with four
Jack Snipe
(one of which was trapped and ringed). Raptors have been represented by a single
Kestrel
on the 18th and 19th, a
Buzzard
on the 18th, and the usual
Sparrowhawks
lurking around.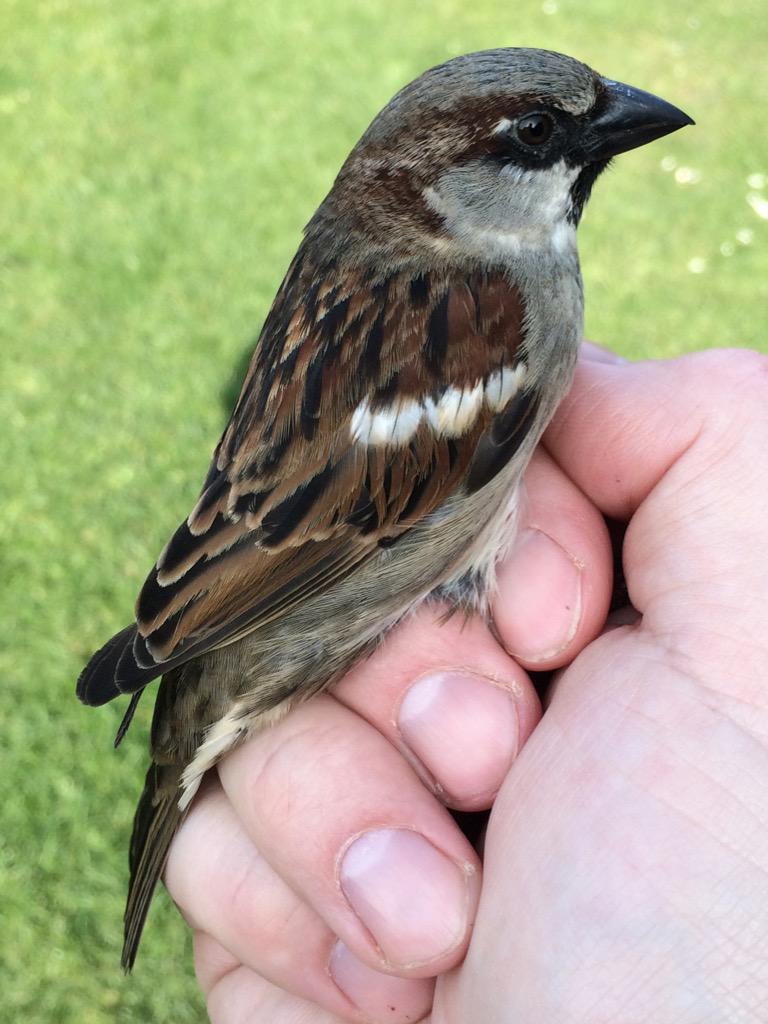 This smart male House Sparrow was trapped at Cristin on the 19th- the first of the year and still a rare bird on the island
The first few Goldcrests of the year have been trapped and ringed in the last few days
Chaffinch
There are some stunning male Wheatears around the coast at the moment, and numbers continue to build: a count of 25 on the 18th was the peak movement. There are very few females amongst the arrivals as yet
Stonechats moved through in excellent numbers on the 18th, with a single flock of seven seen on the Narrows! A total of 20 were seen on the island on the 18th
Chiffchaff
Goldcrests have been arriving in small numbers, although we should expect to see higher figures than this at the time of year