Weather conditions were perhaps not what one might expect for the beginning of July: after a brief appearance by the sun in the early morning, the storm clouds rolled in, and torrential rain showers ensued for the rest of the day. The downpours were accompanied by a strong south-westerly wind, blowing between 15 and 30mph.
New arrivals on the island in terms of birdlife were in short supply: three
Common Sandpipers
and a Turnstone in Solfach joined the usual loitering flock of Curlews, today standing at nine individuals. Out to sea, there was a good movement of 495 Manx Shearwaters south past the west side, along with 20 Gannets and three Black-headed Gulls. In terms of passerines, it was hard to discern any migrants amongst the multitude of breeding species and fledged young- some counts of these included 73 Meadow Pipits, 46 Wrens, 14 Stonechats and 85 Linnets.
Insects and lepidoptera were, unsurprisingly, in rather limited supply due to the conditions. A brief walk-through of the withies produced Common Carpet,
Caloptilia stigmatella,
five
Rose Tortix,
Argyresthia pygmaella
, plus the usual fare of Garden Grass Veneers and
Bactra lancealana.
A fantastic find on the 5th concerned a SCARLET TIGER, discovered on the damson bushes in Cristin back garden. This is the first record of this smart moth for Bardsey, but is amongst an interest cluster of records around Pen Llyn (at the far north-westerly end of its range).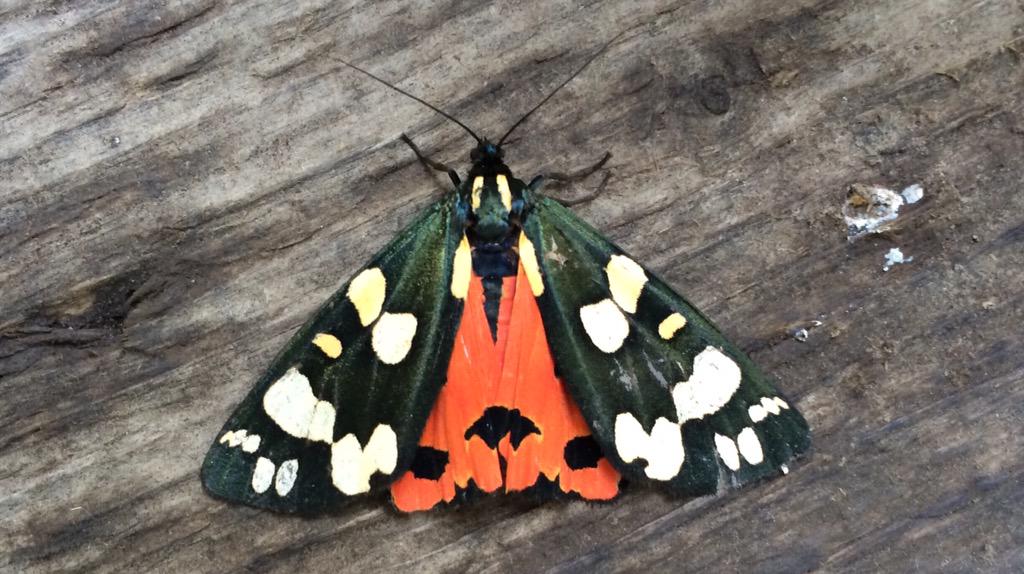 Scarlet Tiger (c) Steve Stansfield
juvenile Stonechat.