A day of strong winds, full of promise of seabirds, and sure enough it delivered. An adult

Long-tailed Skua

was seen off the South End in a morning's seawatch (with another immature off the west coast later in the day) that also included Great Northern Diver, three Pomarine Skuas, three Arctic Skuas, three Balearic Shearwaters, 58 Manx Shearwaters, six Black-headed Gulls, 547 Kittiwakes, 362 Razorbills, two Fulmars, 37 Gannets, and 12 Common Scoters.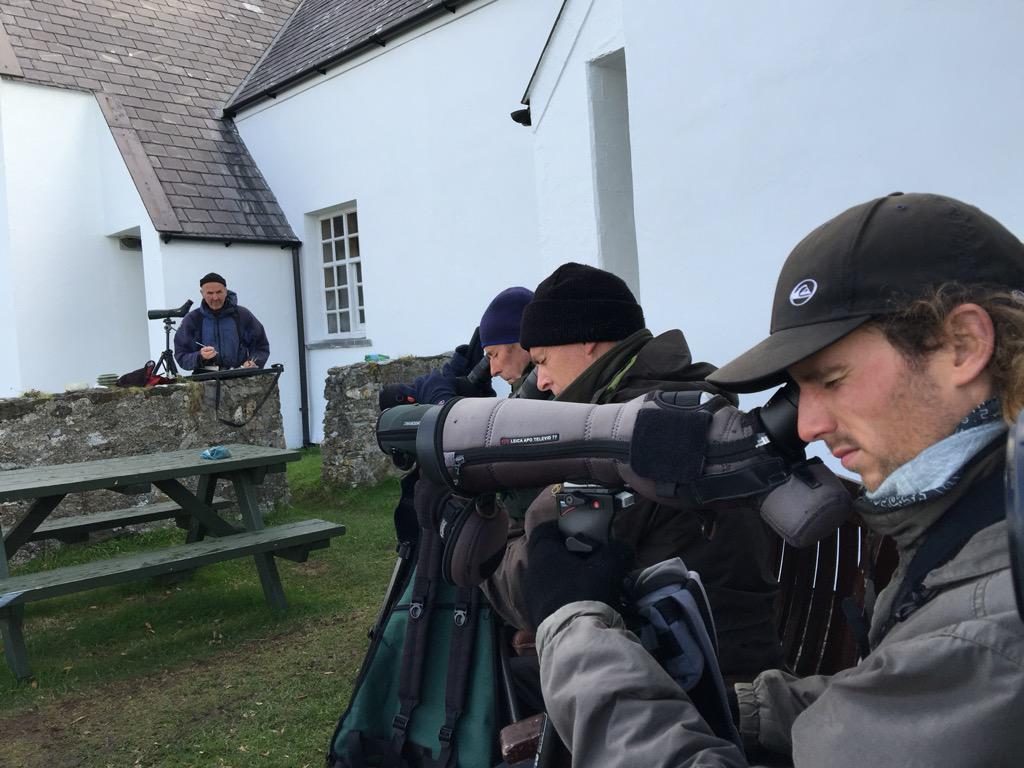 This week we have three Artists (Darren Woodhead, Kim Atkinson and Greg Poole) who are staying at the Obs and contributing to the BTO/SWLA flighltines project http://www.bto.org/science/migration/flight-lines. Greg is pictured above drawing Obs staff and visitors seawatchin on Monday.
"

During 2015, the BTO is pairing

Society of Wildlife Artists

(SWLA) member artists with bird ringers, nest recorders and others working on migrant birds. By doing this we hope to portray the birds, their habitats and the volunteers who study them, raising the profile of the research that is being done to understand the challenges that migrant birds face. We want to capture the work that is going on at our bird observatories, the work that happens in our woodlands and in our reedbeds, bringing to life the stories of our migrants birds."
Waders around The Narrows amounted to 55
Oystercatchers
, one
Ringed Plover
, one
Dunlin
, one
Snipe
, one
Whimbrel
, two
Redshanks
, two Lapwing, and 38
Turnstones
, whilst other migrants seen around the island today comprise 86
Swallows
, 21
House Martins
, six
Grey Wagtails
, seven
White Wagtails
, seven
Wheatears
, 11
Chiffchaffs
, and 33
Goldcrests
.