A delightful male

Bullfinch

was discovered in the nets at Cristin this morning, another record in a great year for this species on Bardsey, and continuing this autumn's brilliant Finch passage (see images below of some of the finches trapped today).
.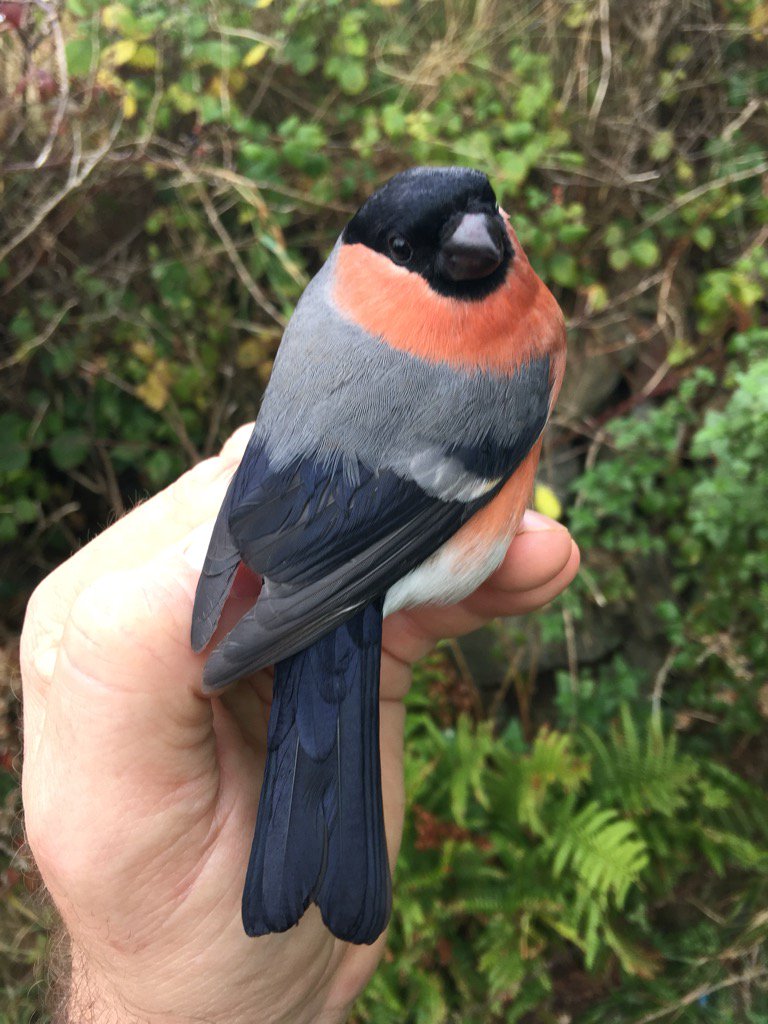 A fine young male Bullfinch
A
Great Spotted Woodpecker
and two
Black Redstarts
were also seen at Cristin whilst a
Firecrest
remained at Nant as did a solitary
Long-tailed Tit
at Carreg.
At high tide 42 Oystercatchers,
two Whimbrels, 40 Curlews, and five Redshanks were roosting on The Narrows whilst other waders recorded today include
one Golden Plover, two Snipes, and four Woodcocks.
Also seen across the island today were one Sparrowhawk, one Kestrel, one Buzzard, one Merlin, three Water Rails, 71 Skylarks, three Grey Wagtails, three Pied Wagtails, 31 Blackbirds, three Fieldfares, ten Song Thrushes, 67 Redwings, two Mistle Thrushes, five Blackcaps, two Chiffchaffs, 31 Goldcrests, two Coal Tits, 163 Jackdaws, six Rooks, 52 Carrion Crows, nine Ravens, 1500 Starlings, 111 Chaffinches, 12 Bramblings, 16 Greenfinches, 22 Siskins, 28 Goldfinches, 124 Linnets, three Lesser Redpolls, and seven Reed Buntings plus out at sea
219 Black-headed Gulls, four Common Gulls, 38 Herring Gulls, and t
wo Common Scoters flew by.