Another terrific day from start to finish as the warm south-easterly winds bring bird after bird onto the island. New discoveries were made throughout the day and it took until late afternoon for a stunning male
Eastern Subalpine Warbler
to be found on the South End. The bird showed brilliantly amongst the gorse, showing down to a few feet at times, allowing close scrutiny of plumage and some excellent photo opportunities. This is the 32nd record for Bardsey and the 14th in the past ten years. The south End had already been covered twice, during the morning and again after lunch, and on both occasions just four warblers were present. However, a heavy rain shower about 1400 must have dropped the Subalpine Warbler along with the three Lesser Whitethroats, three Whitethroats, a Sedge Warbler, a Reed Warbler, several Blackcaps and Willow Warblers (c25 warblers in all in the gorse)
Male Eastern Subalpine Warbler
Before the aforementioned Subalpine Warbler today's star bird would have been the Turtle Dove flushed from Pen Cristin in the morning. It was re-found in the Lowlands later before once again relocating north up the island.

Further excellent variety inland concerned a Cuckoo, two Tree Pipits, two Blue-headed Wagtails, one Grey Wagtail, three White Wagtails, one Whinchat, 26 Wheatears, six Collared Doves, and 14 Spotted Flycatchers. The first two Reed Warblers of the year were logged (at Cristin and the South End) as well as one Grasshopper Warbler, two Sedge Warblers, three Lesser Whitethroats, six Whitethroats, one Garden Warbler, 15 Blackcaps, 17 Chiffchaffs, 13 Willow Warblers, three Goldcrests, and the singing Firecrest still at Ty Capel.
Good counts from the sea include 37
Common Scoters
, one
Sandwich
Tern
, 481
Razorbills
, and 20
Puffins
whilst light corvid passage totalled four
Jackdaws
, three
Rooks
, and one
Hooded
Crow
.
Once again wader tallies were high as four Ringed Plovers, one Sanderling, nine Purple Sandpipers, two Dunlins, one Snipe, one Bar-tailed Godwit, 22 Whimbrels, one Curlew, one Redshank, and 16 Turnstones testify. Flyovers today include one Swift, five Sand Martins, 168 Swallows, 37 House Martins, two Siskins, seven Goldfinches, and a massive count of 47 Lesser Redpolls.
Female Blue-headed Wagtail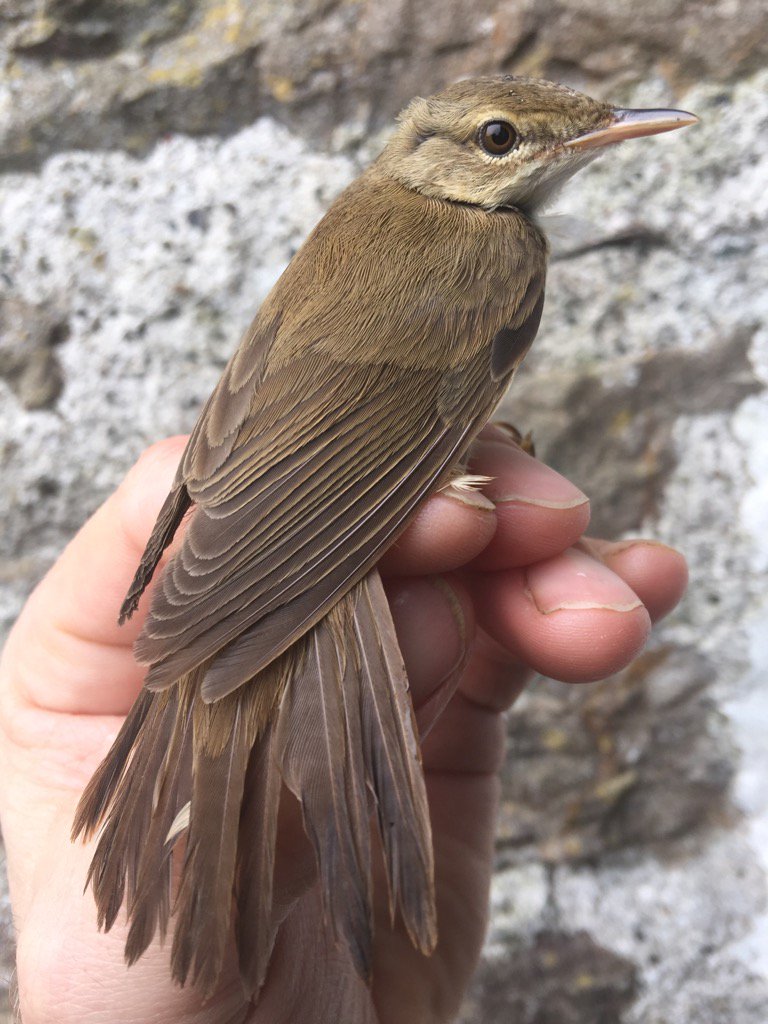 Reed Warbler - one of two seen