The second week of May turned out to be quite a good one in the end on Bardsey Island, off North Wales. It began well with an Osprey heading north over the island on Saturday afternoon (which we have since learned it was FK8, from the Tweed Valley in the Borders!).
Sunday saw two Blue-headed Wagtails, a Grey Plover, a Pomarine Skua and a Wood Sandpiper - only the 16th record for the island. Monday started with the year's first Turtle Dove in the morning, and then moved on to the layout of a section of the 2014 bird report for me. Radio traffic about a mid-afternoon arrival of birds prompted me to head out for an hour. Minutes after leaving my desk, Steve Hinde radioed out news of a male Eastern Subalpine Warbler near the lighthouse. We spent the next two hours watching and enjoying this gem, the first for 24 months and the 15th on the island in the past nine years, and the sixth one that 'subalp Steve' had found on here.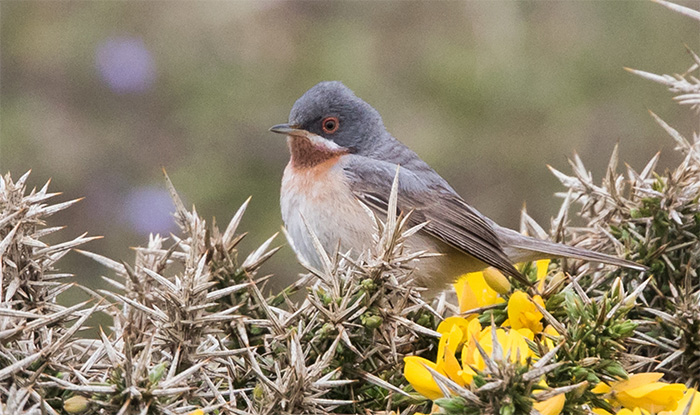 Tuesday morning was grey with a southeast breeze. Early morning radio traffic again dragged me away from my desk, with the words 'Black Kite!' being broadcast over the airwaves by one of my Assistants, Mark Carter. This was just the third record for Bardsey but the second found by Mark!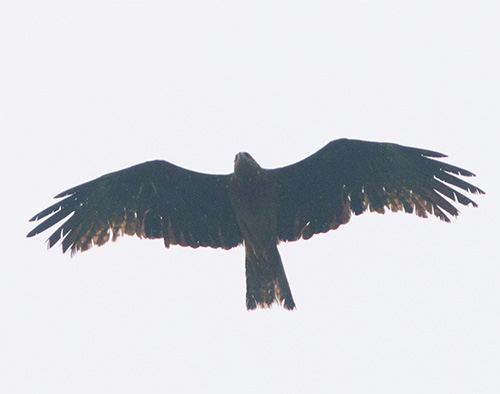 Fitting new carpets in the Lodge was the order of the day for Steve Hinde and myself from mid-morning on Wednesday. Meanwhile, Mark was counting Swallows on Pen Cristin when he radioed at about 1630 saying he had just found a large pale Pipit on Pen Cristin but was not sure which species it was. Steve and I downed tools and went straight out. As we approached, Mark was describing the bird over the radio. It sounded like it was going to be a Tawny Pipit as he described it as being quite pale and unstreaked. However, he had noticed on the only photo that he managed to get, that the bird did not have the diagnostic dark lores. Mark had had a cracking couple of days with his Black Kite and now this!
When Steve and I arrived we saw the bird, clearly a pale looking large pipit, and at the distance we were – c80 metres with no scopes, the bird did look very pale and very much like a Tawny Pipit. I was quite happy as it would have been a Bardsey tick! We never got very close views, and every time we tried to get closer the bird flew. We followed it around three small fields, trying to use gorse bushes as cover to be able to get closer. Eventually I managed to get close enough to rattle off a few shots with a 400mm lens. I had a quick look at them in the field, but as the sky was quite bright, and the images were not that good I could not make much detail out on the back of the camera. We watched the bird for about another 30 minutes at a distance to 80 to 100m. We could see no streaking on the breast, no malar, and what appeared to be a fairly clean looking mantle. However, we were all in agreement that the bird had pale lores – an 'absolute no-no' when it comes to the ID of Tawny Pipit.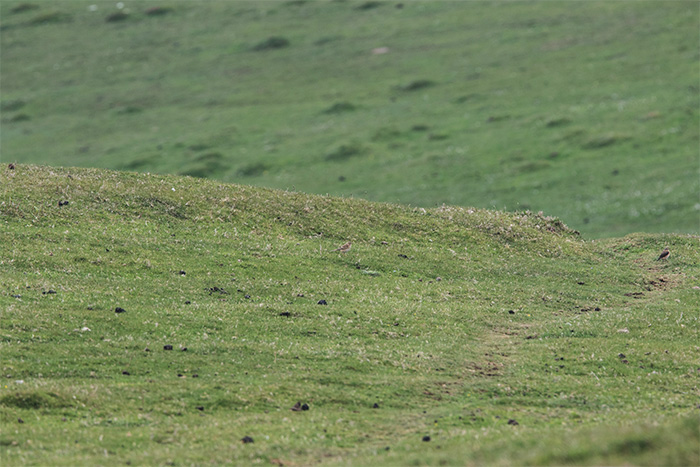 Steve Hinde stayed with the bird whilst Mark, Steffan Walton and I headed back to the Obs, I wanted to get Emma (my wife) to come and see the bird. When we got into the house I had a quick look at the pictures on the back of the camera without the glare of the bright sky. Alarm bells began to ring immediately, the bird's mantle was actually streaked (!), there was a malar stripe, albeit a weak one and breast streaking, again very weak. I commented to Emma 'I'm not sure this is a Tawny Pipit you know, it looks more like a Blyth's in these Pictures!'
I immediately grabbed my radio and asked Steve if he was still with the bird, but he had just lost it and then left the site. When Steve enquired 'why?' I responded saying that 'I was not convinced the bird was a Tawny Pipit and it was not a Richard's Pipit'. Steffan and Mark both got on the radio and began asking questions. I explained that the bird was streaked etc. and these features were not visible at the range we were watching it from without scopes. I set off back to where the bird was, along with Emma and everyone else.
Having found Wales' first Blyth's Pipit in 2005, I knew the relevant features of a first winter bird, but what would a first summer one look like, or even an adult? …And it was May! Blyth's Pipit is clearly on the radar in autumn, but not in May…
So armed with telescopes and cameras we relocated the bird. Again it was still jumpy, but with scopes we could see the features that I was able to just make out in the photos. The bird definitely did have pale lores, it was very pale looking, the mantle was definitely streaked, with neat rows of dark streaks. The malar stipe was there too, not as bold as a Richards, and not ending in a dark triangle on the upper breast sides. The streaking on the upper breast was there, but not very pronounced. The bird was quite compact, with a shortish tail, and was never big and bold and upright like a Richard's Pipit in stance. The bird was now also heard to call several times, giving a schpeeoo call and also a chruuup and chuup call. I was becoming more and more convinced the bird was a Blyth's, but the fact it was May was a real off putter! Steffan had brought various field guides and we were able to check on the features, but all of them were describing typical October birds, so were of little help. I knew I needed to get a photo of either the pattern of T5 and/or the hind claw. As we had spread out a little, I radioed to the others who were using scopes, to check the exact patterning of the malar, the crown, the median coverts, mantle and breast streaking and if possible the pattern of T5 and hind claw length, and also to watch what did it did when it landed – did it hover or flop into the grass? I was trying my best to get the pictures I knew we needed to absolutely clinch the ID.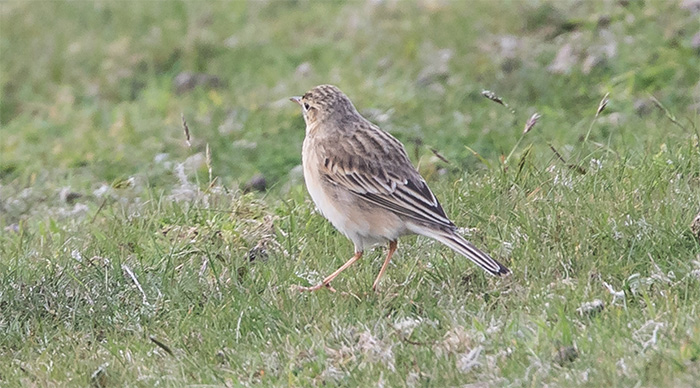 I approached the bird, using banks and bushes as cover, and eventually managed to get close enough to get several images which showed all the features previously mentioned. The bird was, for the most part, in grass which was about 1-inch-deep, so getting a good view of the feet was hard. However, I did manage to get some shots where the hind claw length was visible. All the features were now there, we even saw it landing without hovering first. I was able to go home and put the news out about the UK's first spring Blyth's Pipit!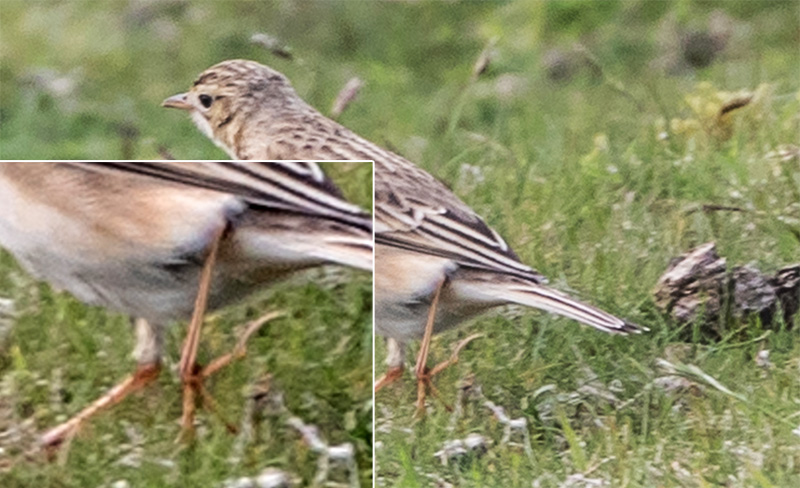 I downloaded the images onto the computer, checked for all the features again – short hind claw, short tail, compact jizz, quite a smallish bill, streaked mantle and back, weak malar and breast streaking. It was all there…
I picked up the phone to call RBA, began to dial the number, then hung up… This was some claim, what if we had it wrong and were making a 'schoolboy error'? I decided to be doubly cautious and to call the Observatory's Chairman, Peter Howlett, and work through the features with an un-biased 3rd party. We looked at all the ID features closely in the images and Peter agreed that they did all fit, each and every one of them. So eventually I picked up the phone and left a message to the effect of 'hi guys, it's Steve Stansfield on Bardsey, I know this is going to sound like a bit of a ballsy claim, but we have got a Blyth's Pipit, I'm just about to post some pictures on Twitter…'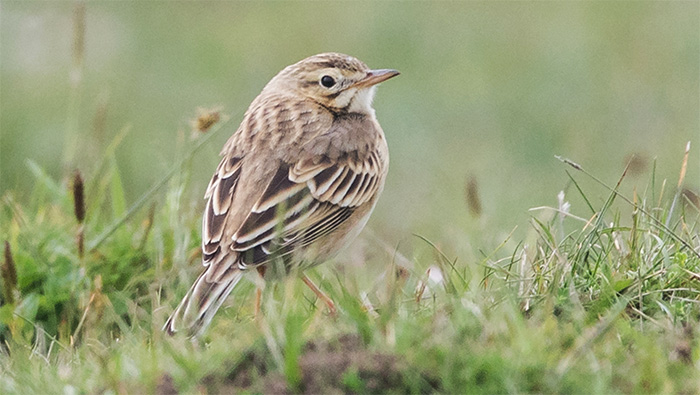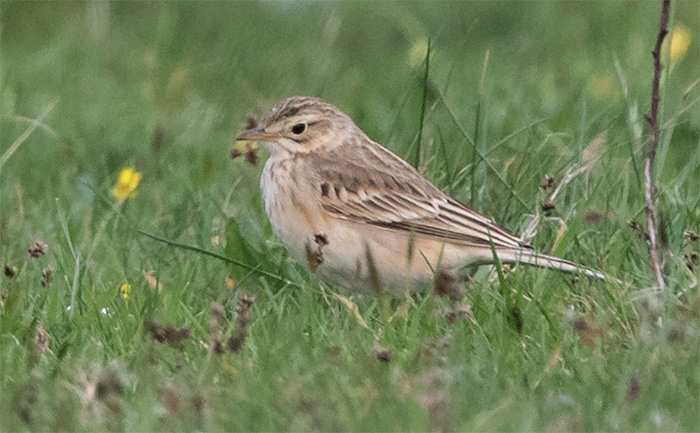 I quickly posted some cropped, but un-processed pictures on Twitter and then watched the notifications go mental! Re-tweet after re-tweet, favourite after favourite, and congratulatory tweets coming in every minute.
I was waiting for someone to tell me I had dropped a massive clanger, but there was enough to be seen on the bird for everyone to agree with our ID, this really was UK's first spring Blyth's Pipit.
Now that the bird has gone, I am back to my day job of running the Observatory and Lodge, we finally finished decorating the Lodge, fitting the new carpets and getting the place looking nice and fresh for our guests.
Stay at BBFO
Cost
Just £165 per person per week self-catering, with the boat fare £38. We have two double/twin rooms, two four bedded/family rooms and two singles. Communal facilities – kitchen, dining room, wash room and lounge etc. are shared with other guests.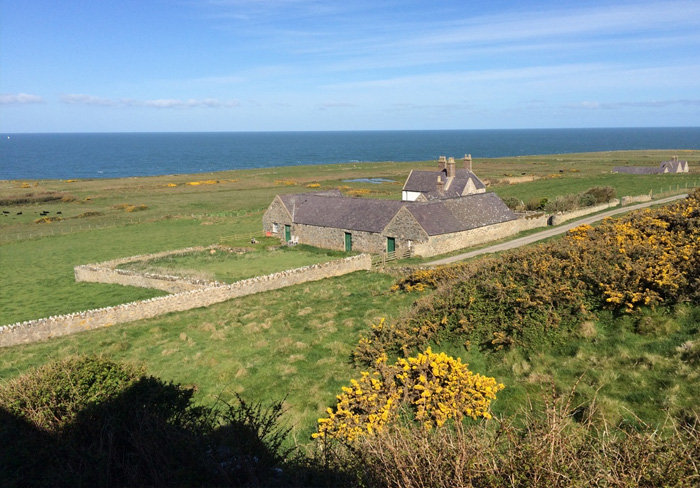 Steve Stansfield
19 May 2015