Strong easterly winds continued to gust across the island today bringing in some new migrants, most notable bringing an excellent variety of wildfowl which can sometimes be hard to come by on Bardsey. A flock of six Wigeons, including a stunning adult male passed by the West Coast as did three Eiders, two females and a young male, minutes later. Common Scoters moved in reasonable numbers and amounted to 34 individuals, whilst 32 Mallards occupied the West Coast bays and three Teals dropped into Solfach briefly. Star of the show however came in the form of a female

Pintail

discovered in Henllwyn, where it preened and rested for some time before joining a small group of Mallards on the west. A fantastic record and only the 44th time this species has occurred on the island since recording began. A very pale Balearic Shearwater added to a nice variety passing out at sea as did two Little Gulls, a first winter and adult bird and great numbers of other gulls logged including 14 Mediterranean Gulls, 420 Black-headed Gulls, 145 Common Gulls, 23 Lesser Black-backed Gulls, 57 Herring Gulls, 18 Greater Black-backed Gulls and 311 Kittiwakes. Gannets numbered 56 and a single "Commic" Tern, two Guillemots and 33 Razorbills were also noted.



Yellow-browed Warbler

numbers had risen to three now, two in the Withies and one at the Plantation, although the driving wind made viewing extremely difficult as the birds kept low and deep within vegetation, one was later trapped in a mist net in the afternoon when the winds had subsided (below).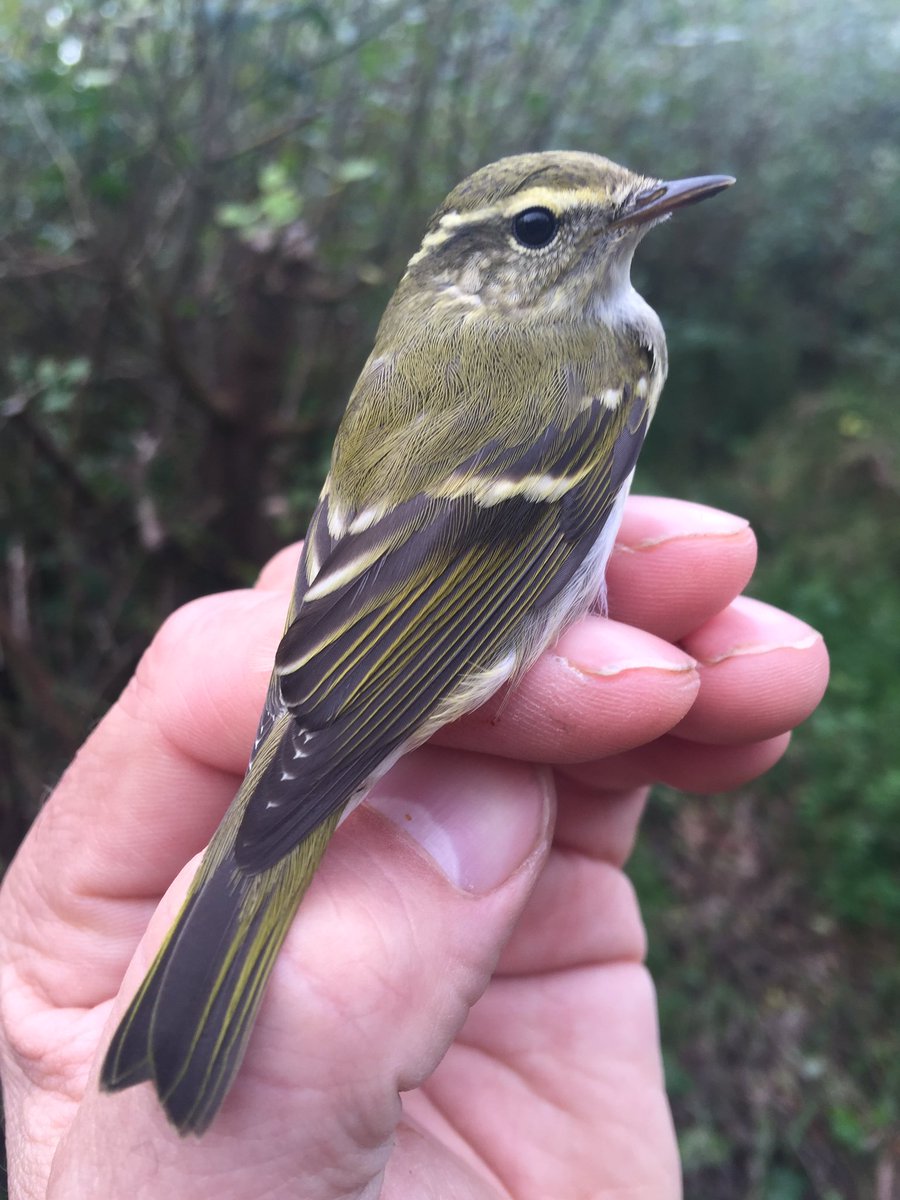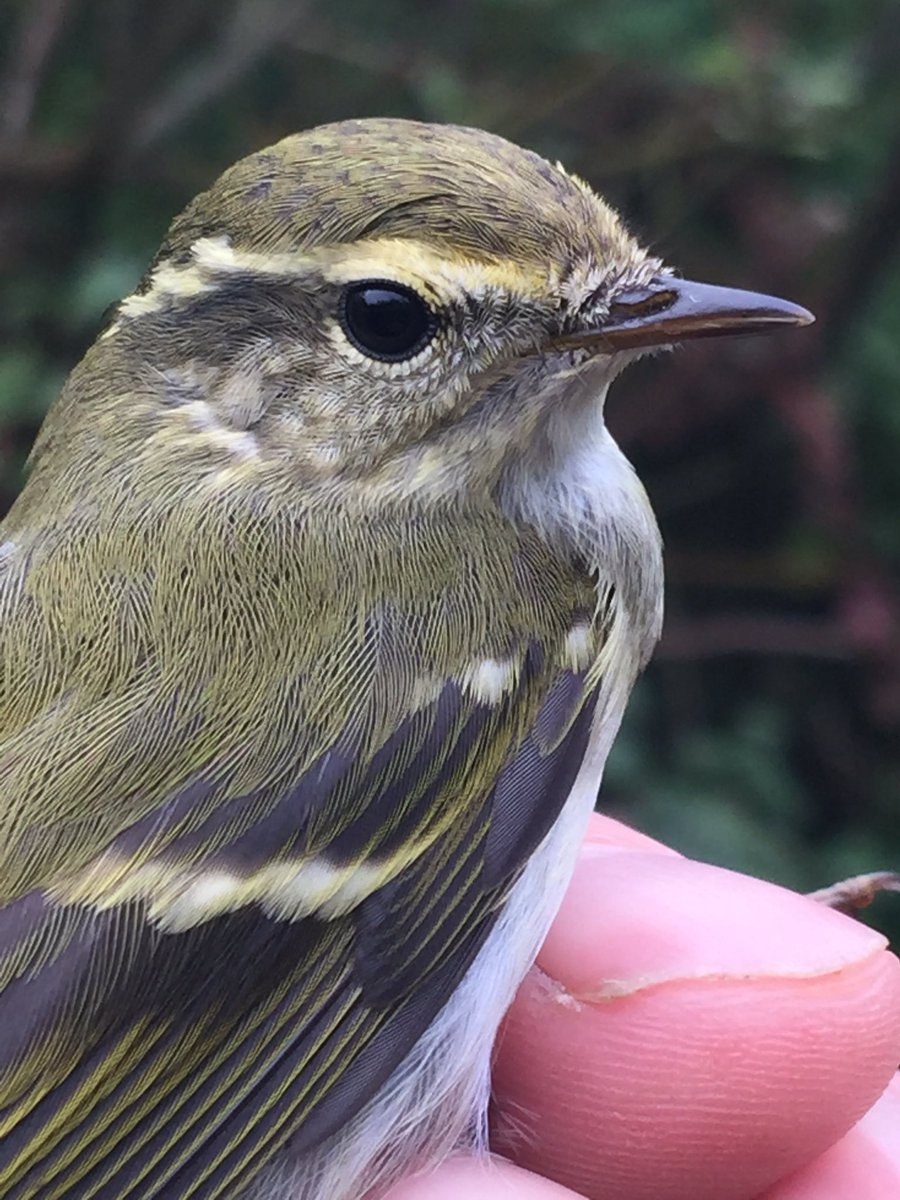 Other Warblers were fairly thin on the ground in terms of numbers, two Blackcaps, seven Chiffchaffs, a Willow Warbler and 18 Goldcrests making up the numbers. A Wryneck discovered amongst the gorse by the School House added to a fantastic run of records this Autumn of this species. Doing what Wrynecks do best, it promptly darted from cover and disappeared. Wagtails were also fairly low in numbers with just one Grey Wagtail, a Pied Wagtail and four White Wagtails seen, however a Flava Wagtail around the Narrows and Lowlands was picked up but unfortunately didn't stop and was just heard a couple of times as it moved through. A Redwing and three Song Thrushes were a sign of things to come this Autumn as were 11 Starlings. A pair of Sparrowhawks, a Kestrel, two Merlins and a Peregrine cruised the island causing havoc with the other island residents and three Little Owls called from various locations. Robins were again present in high numbers with 41 counted, two Water Rails squealed in the Withies, eight Common Snipes were flushed from cover and a Skylark and House Martin passed overhead. Meadow Pipits amounted to 68 and Rock Pipits 42, whilst seven Stonechats, six Blackbirds, three Chaffinches a Goldfinch and 62 Linnets were also seen.
Grey Herons stalked the rock pools around the Narrows and South End and close by a Lapwing, seven Ringed Plovers, 14 Dunlins, a Bar-tailed Godwit, Whimbrel, 42 Curlews, three Redshanks and 33 Turnstones were seen.
Considering the weather a reasonable count of Lepidoptera consisted of 12 Green-veined Whites, 11 Red Admirals and 12 Silver Y's.