Strong north-westerlies generally produce good seawatching off Bardsey, and it proved the case again today, with a fine selection of species seen. Some of the larger counts are partially incomplete, as Mark, who counted off the North End for much of the morning, had to leave the island in the evening with his dog for a last-minute trip to the vet! We'll get full totals on the blog as soon as we can, but for now the numbers are as follows. One notable feature is a resurgence in
Manx Shearwater
numbers, perhaps as a result of many youngsters now fledging and taking to the Irish Sea? In total 900
Manx Shearwaters
, 750
Kittiwakes
and 172
Gannets
made up the bulk of passage, with the largest
Razorbill
movement of the autumn so far also logged, as 95 moved south past the South End in two hours. A four-auk day was also achieved, always a good sign, with 19
Guillemots
, a single
Puffin
and one of the days highlights being a
Black Guillemot
off the North End. Five
Arctic
and two
Pomarine Skuas
were logged, while terns featured with 11
Sandwich
and three
Arctic Terns
, and the first
Black Tern
of the year off the North End. The other notable seawatching highlight was two
Sooty Shearwaters
in the morning, with other bits logged including 23
Fulmars
and seven
Common Scoters
.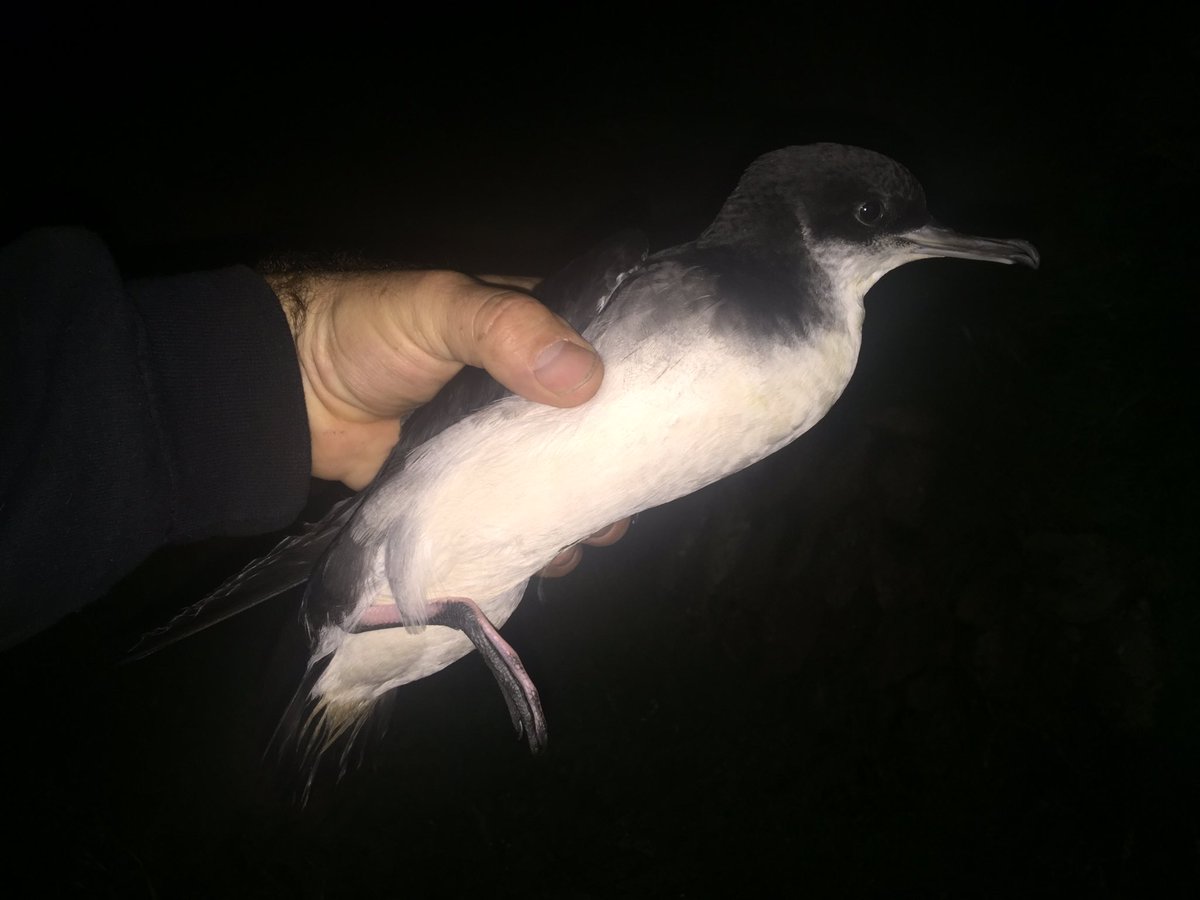 one of our young Manx Shearwaters, currently very close to fledging age
On land a bit of overhead passage was had, with 86
Swallows
moving south, alongside 17
"alba" Wagtails
, 10
Grey Wagtails
and a single "
Flava" Wagtail
.
Sparrowhawks
increased to three, with probably the same two
Kestrels
again hunting over the mountainside. Meanwhile 122
Linnets
were on the South End and the Narrows, with improving weather in the afternoon triggering a notable arrival of
White Wagtails
, 80 were seen including 45 in a single group on Solfach. 50
Goldcrests
were again recorded, along with a fairly limited selection of Warblers, just 15
Willow Warblers
, eight
Chiffchaffs
, three
Whitethroats
and two
Blackcaps
, unsurprising given a night unconducive for nocturnal migration.
Robins
had decreased to 14 and just three
Spotted Flycatchers
were seen today, with no other passerine migrants noted.
The wader highlight was undoubtedly the first
Little Stint
of 2017, a species not seen every year on Bardsey. This individual headed south with a group of
Dunlin
close into the North End mid-morning. Otherwise just the regulars were seen in mostly lower numbers than yesterday, with 28
Turnstones
, 21
Oystercatchers
, 15
Curlews,
eight
Dunlins
, six
Redshanks
, six
Ringed Plovers
and two
Whimbrels
.
A limited selection of non-avian sightings were seen today, for example just four moth of two species (
Large Yellow Underwing
and
Sqaure-spot Rustic
) were in the Cristin moth trap! 27
Red Admirals
and 15
Painted Ladies
hinted at a bit of migration, while four
Risso's Dolphins
were off the North End in the afternoon.