We haven't managed any top drawer rarities amongst this latest pulse of migration, but when the island is as full of birds as it was today we can't have any complaints! It was fantastic to be out today, with migration really seeming to be in fuller swing than its been all autumn, and a great diversity of species logged.
Among the most numerous were 293
Goldfinches
passing through overhead. They were the headlines of a decent finch day, with 23
Chaffinches
, six
Siskins
and five
Lesser Redpolls
also around or overhead. Until today we'd had just one
Reed Bunting
all autumn, so a minimum of seven today was a considerable improvement. A brief
Lapland Bunting
also dropped into the Narrows early in the afternoon, but moved swiftly on. 398
Swallows
and 79
House Martins
were streaming north, while
Meadow Pipits
seemd to be constantly on the move, with the 208 logged underestimating the real numbers by an unknown rate. 44
Rock Pipits
were around the coast, while
Pied Wagtails
seem to have firmly supplanted
White Wagtail
as the dominant species, 30 of the latter and just one of the former were seen today, the first time that
Yarrelli
has been moving in any great numbers this autumn. An additional 17
alba Wagtails
passed through overhead, alongside 14
Grey Wagtails
and 23
Skylarks
, the largest passage of the latter this autumn. Two each of
Buzzard
and
Sparrowhawk
(including a young male trapped at the Plantation) also moved through, alongside a cream-crown
Marsh Harrier
, the third of the year.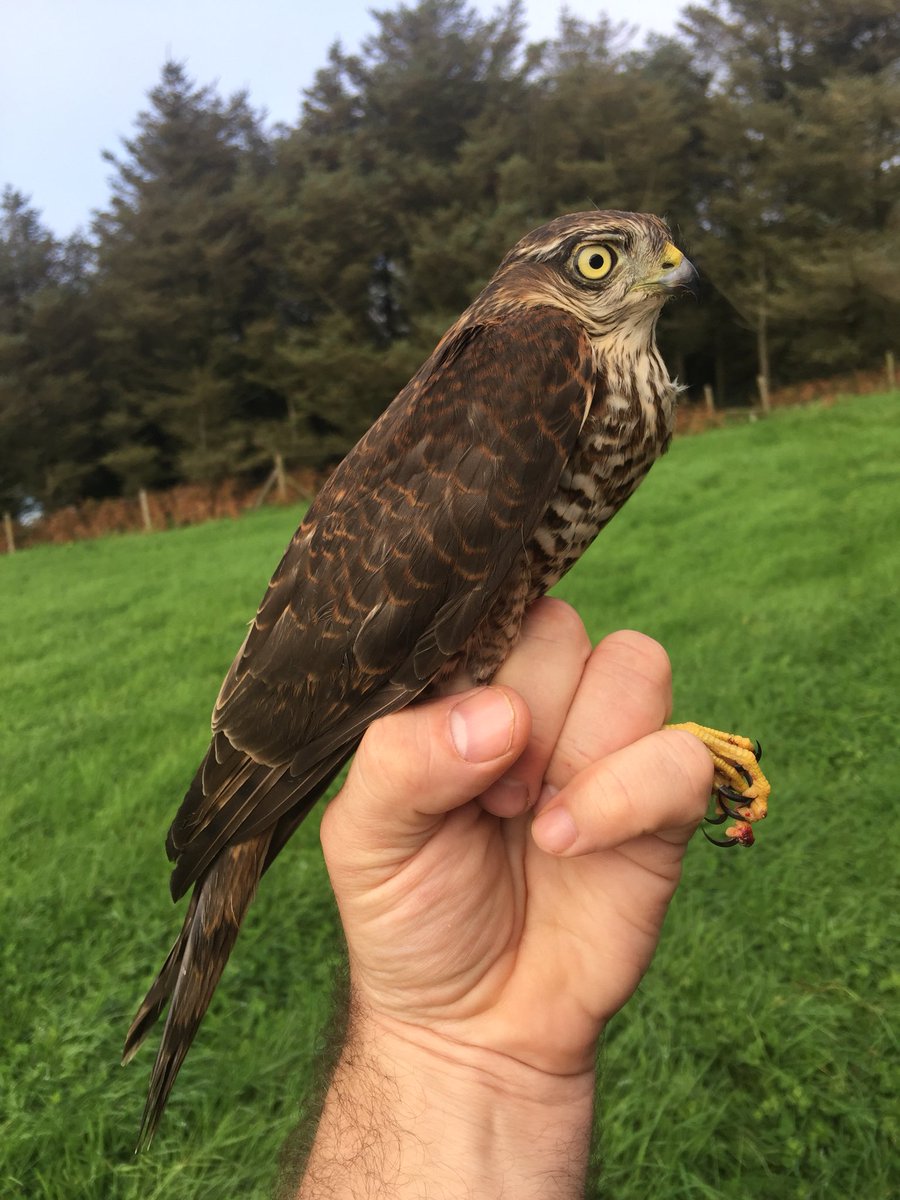 first-winter male Sparrowhawk, trapped and ringed at the Plantation this afternoon
Its impossible to know just how many
Goldcrests
were moving through the island today, with birds constantly on the move along the Mountainside and the lack of retraps in the Obs Garden suggesting few were hanging around. 198 was the final total at log, but the real number must have been considerably higher. 73
Chiffchaffs
represented the largest movement of the autumn so far, with other Warblers noted just nine
Blackcaps
, five
Willow Warblers
and two
Grasshopper Warblers
. 45
Robins
, 25
Stonechats
, nine
Wheatears
, four
Spotted Flycatchers
and two
Song Thrushes
were also noted. A
Wryneck
was around the Plantation/Ty Capel area, and a
Water Rail
was in Cristin Withy.
Two
Sabine's Gulls
were noted again today, with one off the South End early in the morning and one, probably the same as yesterday, briefly flying over the Narrows and heading towards Carreg Yr Honwy. The first notable arrival of
Black-headed Gulls
of the autumn saw at least 320 offshore, alongside 2100
Kittiwakes
. An excellent 102
Common Scoters
was the other highlight of species moving through. Otherwise, sea passage was represented by 55
Razorbills
, seven
Arctic
and two
Great Skuas
, two
Common Gulls
and a single
Arctic Tern
. Waders for the day featured 70
Oystercatchers
, 52
Curlews
, 34
Turnstones
, five
Redshanks
, five
Whimbrels
, two
Dunlins
and a
Snipe
, with two
Grey Herons
including one adult that was new in.
Finally, some mention should be made of the "hidden migration", species we might not even suspect to be on the move if it wasn't for daily censusing. However, counts of 175
Herring Gulls
, 36
Lesser Black-backed Gulls
, 38
Carrion Crows
and 15
Blackbirds
were all sufficiently higher than recent counts to firmly suggest passage of all four species. Both
Herring
and
Lesser Black-backed Gulls
tend to pass south high over the island or along the coastline throughout the day here, but if it wasn't for the fact it's almost all "one-way traffic" you could very easily assume they were just on local movements.