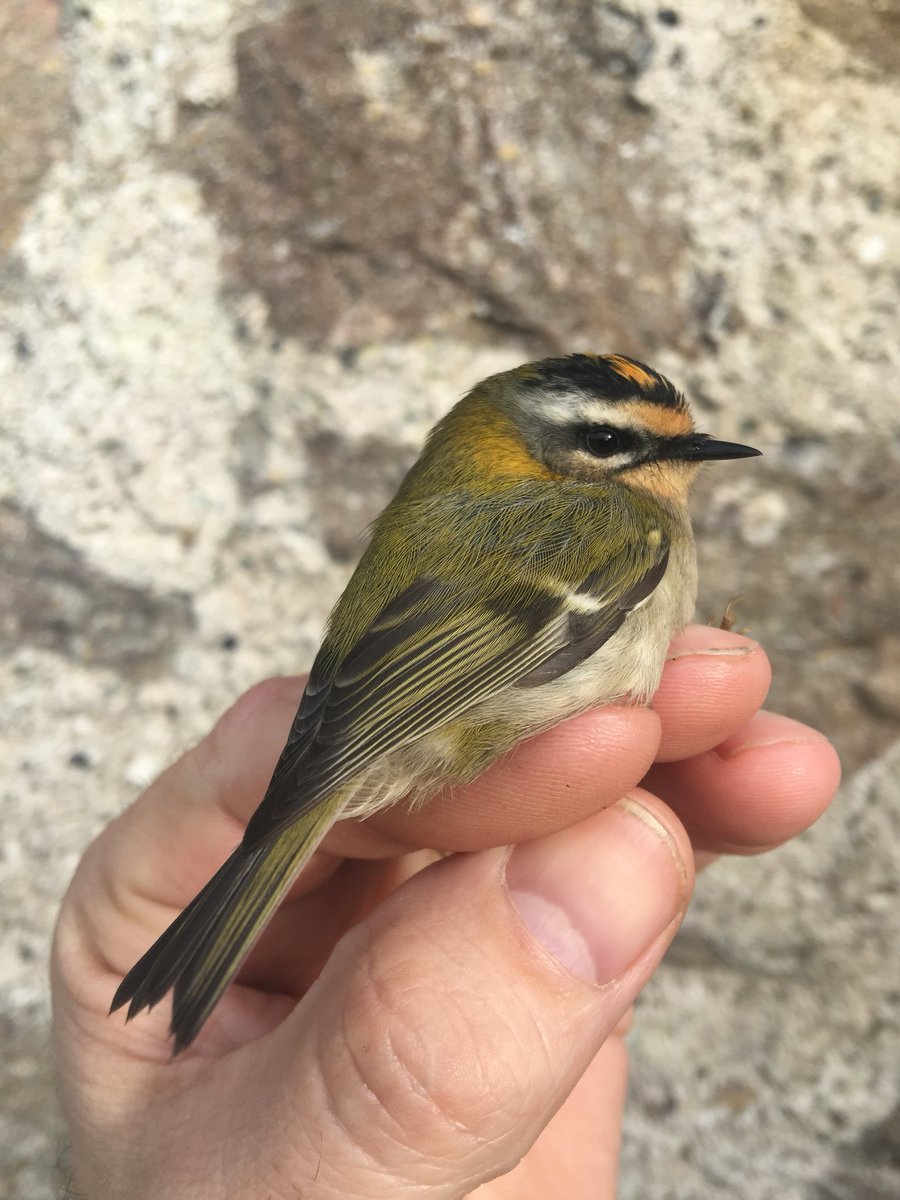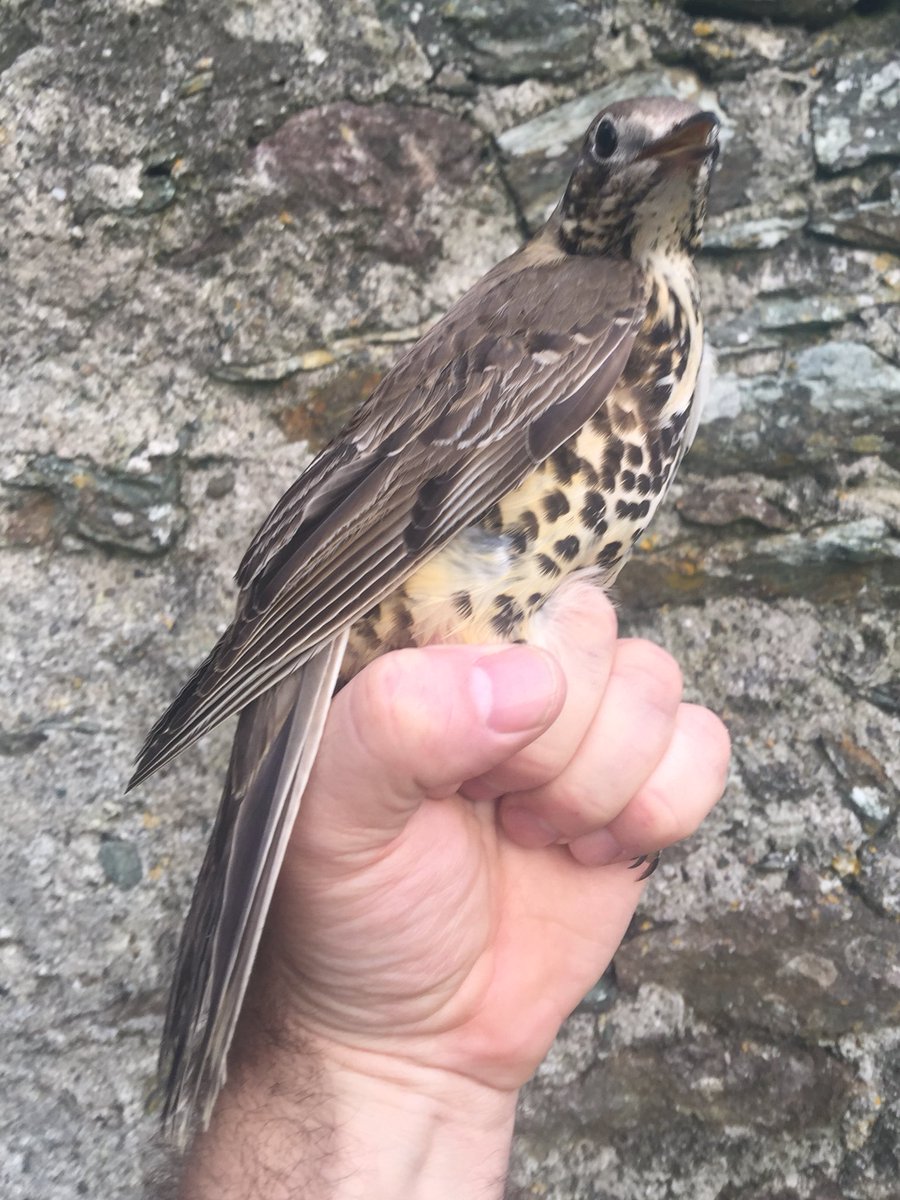 Firecrest and Mistle Thrush, two of the highlights of ringing today
Today was another day with plenty of highlights and a strong passage of visible migrants. There were several unusual birds around today; for starters at six new
Long-tailed Tits
were trapped at the Obs, with two
Hawfinches
and a
Yellow-browed Warbler
at Nant. Two
Lapland Buntings
passed over the South End, while out to sea another
Great Crested Grebe
was the rarity of the day, and two
Eiders
are also a scarce and only just annual species here.
Finches were again a strong component of vis-mig, although in reduced numbers compared to yesterday, and amounted to 219
Chaffinches
, 28
Bramblings
, 28
Greenfinches
, 54
Siskins
, 46
Goldfinches
, 34
Linnets
, six
Lesser Redpolls
and four
Reed Buntings
. The other most numerous species overhead were 114
Meadow Pipits
, 73
Skylarks
, 49
Jackdaws
and 767
Starlings
, while a good variety of other species overhead included three
Sparrowhawks
, two
Buzzards
, three
Merlins
, two late
Swallows
, two
Grey Wagtails
, seven
Pied Wagtails
, eight
alba Wagtails
and four
Rooks
.
On the ground it was another excellent Thrush day, with 66
Redwings
, 55
Song Thrushes
, 47
Blackbirds
and five
Mistle Thrushes
recorded. 57
Goldcrests
and 40
Robins
were the only other species present in large numbers, but a typical late October selection included four
Water Rails
, four
Great Spotted Woodpeckers
, ten
Stonechats
, a very late
Willow Warbler
, three
Firecrests
, five
Coal Tits
, a
Great Tit
and four
Bullfinches
. If you enjoy the admittedly rather niche pastime of "Bardsey October Listing" though, by far and away the highlght of the day was the first two
Woodpigeons
for the whole month! Where the otherwise ever-present Pigeons have been for the last 26 days is anybodys guess, but with thousands passing overhead elsewhere in Wales today, it seems a couple managed to trickle down the Lleyn!
Out to sea the most notable feature was again a strong passage of gulls, with 476
Kittiwakes
, 250
Black-headed Gulls
, 25
Mediterranean Gulls
and 12
Common Gulls
in the morning. Not much else was seen, but a
Great Northern Diver
, four
Shelducks
(which seem to be returning from their sojourn to Germany now), 12
Common Scoters
, an
Arctic Skua
and 270
Razorbills
also passed offshore. Meanwhile a small selection of waders included four
Dunlins
, the first seen on the deck here for quite a while, alongside six
Purple Sandpipers
, a
Whimbrel
and 40
Curlews
on the Narrows, and a
Snipe
in the Wetlands. On the insect front, the first two
Silver Y's
for some time were in the Obs Garden.