While the birds were somewhat interesting today, the main story was, of course, Storm Ophelia, the outer reaches of which swept through Bardsey during the afternoon. Winds reached at least 70mph, and the waves were extraordinary, with some at least 30 feet high. While the human residents escaped unharmed and were able to enjoy the spectacular effects of some truly extreme weather, it will of course have been a difficult day for a lot of Bardsey's wildlife. Over 40
Grey Seal
pups have been born on the island this year, but the storm surge at high tide will have left very few of their coves unscathed, and unfortunately we fear that many, probably the majority, will have been washed away. A census will be carried out in the next few days to assess the impact of the storm. On the Narrows the affects on wildlife could be seen in the extreme, with Grey Seals and
Purple Sandpipers
leaving their usual rocky haunts to take shelter on the grass, the only safe place for them. We also lost Solfach Hide to the sea, and there was a small amount of damage to houses further north up the island (Cristin appears to have survived untouched), but thankfully this was the limit of the storms impact on Bardsey life for the people.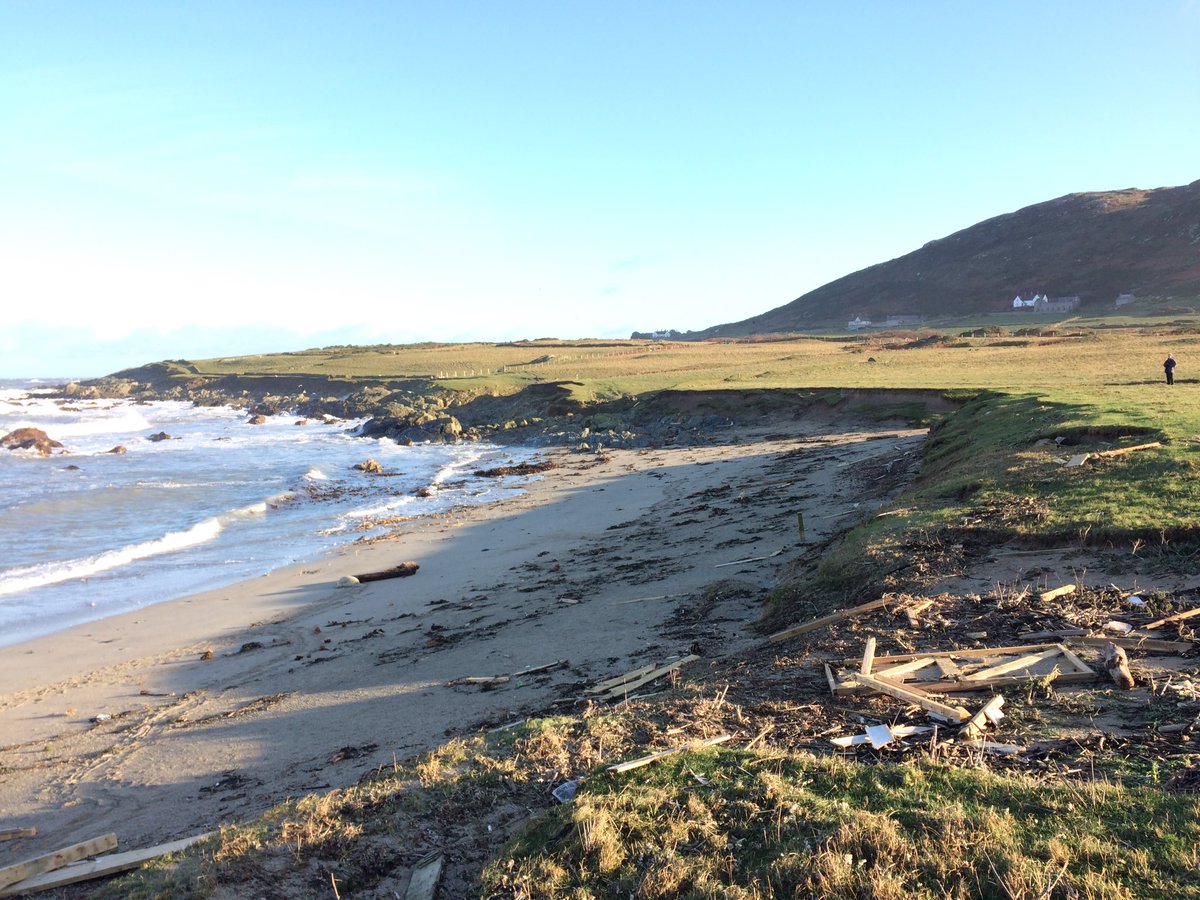 A sad scene indeed; Solfach minus the trusty Todd Chater Hide (Tom Grose)
spectacular waves crashing over Henllwyn, sadly also the most popular area for pupping Grey Seals
Perhaps due to the storm, a good day by Bardsey standards was had for Waders. The most unusual were two
Ruffs
over the West Coast, while five
Lapwings
were also seen. Eight
Snipes
included four in the Narrows and one in/off at the South End, while a flock of nine
Whimbrels
zipped over the South End during the peak of the storm. Otherwise, 25
Purple Sandpipers
was the highest count of the autumn (three of which were dazzled and ringed in the evening), and other good counts were 54
Oystercatchers
, 51
Curlews
, 40
Turnstones
and 11
Redshanks
.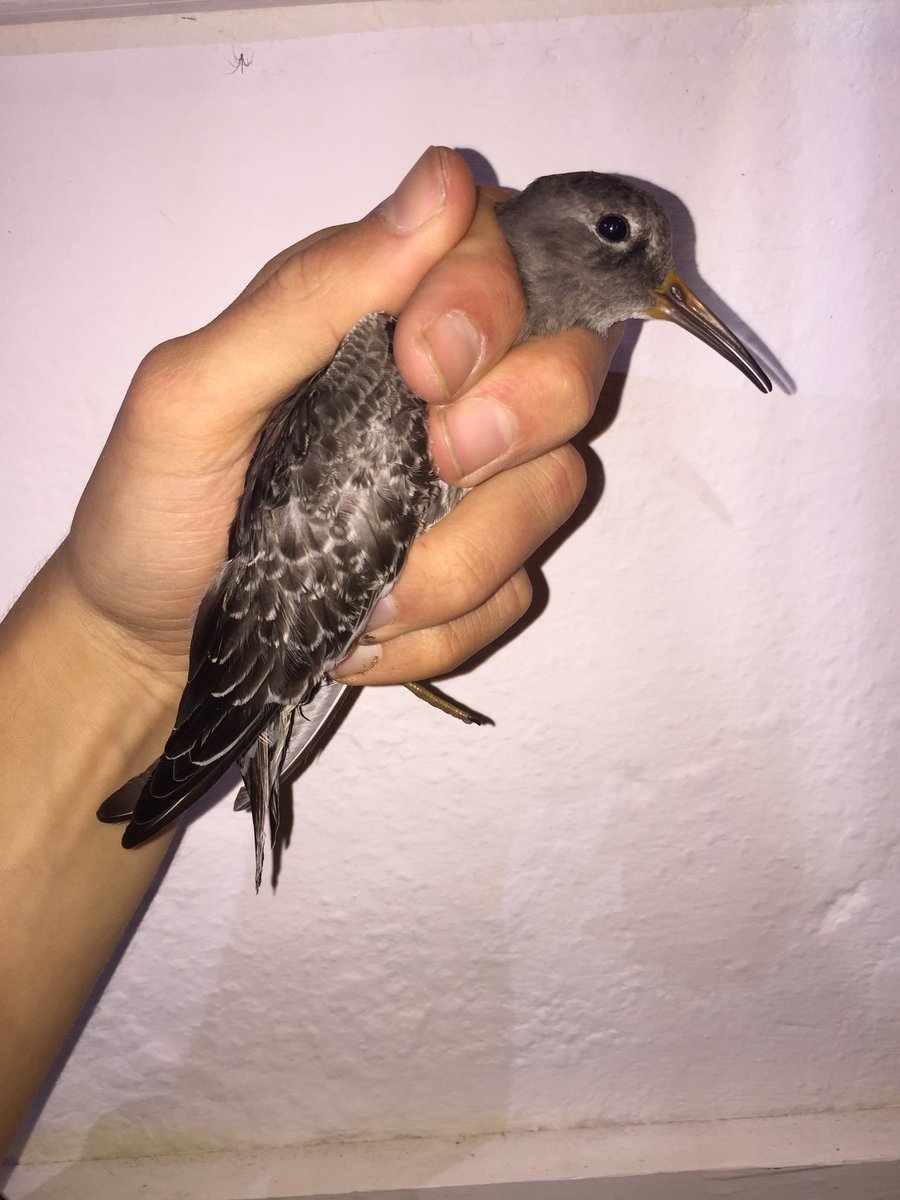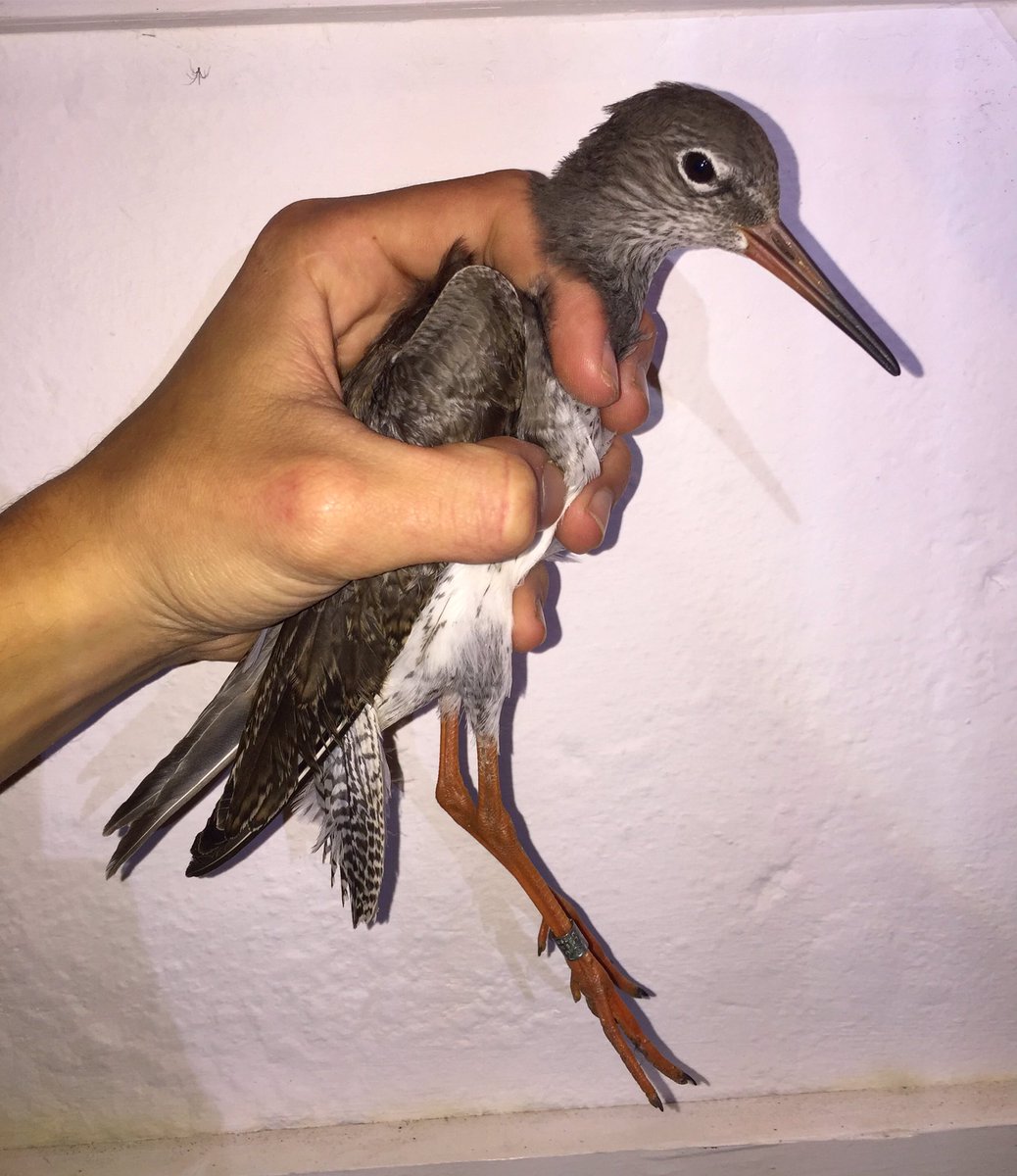 the products of an evening dazzling on the Narrows; one of three Purple Sandpipers and a Redshank
(Ephraim Perfect, Ephraim's Bird Blog)
The day had started out fairly calm, with, like much of the country, a very warm southerly blow and a reddish tinge to the sky caused by Saharan dust. This seemed to facilitate a small amount of migration early in the day, the highlights of which were a
Hawfinch
and a fairly late
Tree Pipit
passing overhead. Typical late autumn fare was represented by 95
Starlings
and 31
Redwings
, with a few other Thrushes seen, notably seven
Song Thrushes
, a new
Mistle Thrush
and the lingering
Ring Ouzel
from yesterday. Visible migration was barely perceptible, but two
Skylarks
and a
Grey Wagtail
passed overhead. Otherwise a small selection of grounded migrants were seen, including 32
Goldcrests
and 23
Robins
; four
Blackcaps
, three
Chiffchaffs
and a late
Willow Warbler
were the sum of Warbler action, and a
Firecrest
was a new arrival at Ty Capel. Seven
Siskins
, three
Reed Buntings
and a
Greenfinch
were the best of the rest of the new arrivals, and some ever present fare included a
Great Spotted Woodpecker
retrapped at Cristin, where singles of
Blue
and
Great Tit
remained. A single
Merlin
was also present on the West Coast.