Two
Little Ringed Plovers
flying over the South Tip mid-morning were by far the highlight of the day, as this species is very rare on Bardsey.
A Flava Wagtail on The Narrows mid-morning was found to be different to yesterday's bird, having a much paler-toned blue head, bordering on the edge of 'Channel' Wagtail.
Sedge Warblers

were recorded in their highest numbers so far this year, with 21 birds scattered around; a

Grasshopper Warbler

, four

Whitethroats

and 17

Blackcaps

were also seen, along with the usual numbers of

Chiffchaffs

and

Willow Warblers

.
15

Redpolls

seen during the day included a very pale bird at Ty Pellaf briefly in the morning, which was probably a

Common Redpoll

.
The first

Bar-tailed Godwit

of the Spring flew South past the South End in the morning, where yesterday's

Arctic Skua

and 26

Whimbrels

were also seen; a

Dunlin

was heard around the Narrows.
Nine

Eiders

were seen off the South End in the afternoon, and a

North-western type Redpoll

was trapped at Cristin.
Yesterday's dark Blue-headed Wagtail (top) to compare to today's much paler probable 'Channel' Wagtail (lower two)
This dark-phase adult Arctic Skua was first seen on the South End yesterday morning, but turned up again this afternoon
13 Redpolls were seen during the day- two trapped at Cristin had already been ringed elsewhere in the UK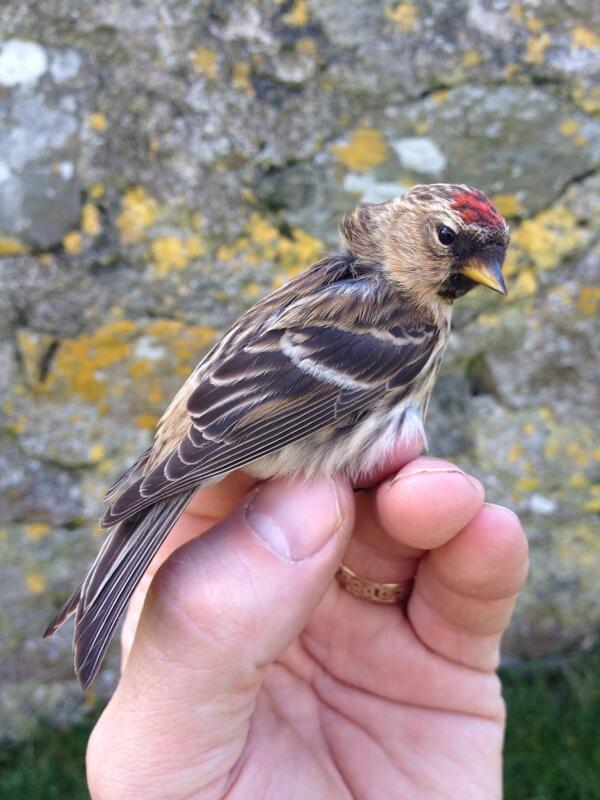 This larger Redpoll was also trapped at Cristin, possibly of North-western origins- with a wing of 74mm and a weight of 15g
Common Whitethroat
Over 60 Swallows passed through during the day