With the wind set in the East, there was a continued movement of migrants through the island on another beautiful sunny day. At least two
Firecrests
put in a brief, but much appreciated appearance in the morning: one was seen in Cristin Withy and one at Nant. A very smart
Yellow-browed Warbler
was found in the new Heligoland Trap at the Observatory, shortly before it was captured, ringed and released. The stunning
Siberian Stonechat
continued to feed around the lower end of the Donogoch Fields; frequently associating with both
Whinchat
and
Stonechats
, which were also present in the area. In the evening, an
Ortolan Bunting
flew South over the Observatory, giving its classic call a few times before disappearing.
In other news, a
Jack Snipe
was flushed from the Ty-Pellaf wetlands mid-afternoon, where three
Common Snipe
were also seen. A single
Knot
was present in Henllwyn, along with three
Teals
.
There has been plenty of migrant Lepidoptera around in recent days: two
Clouded Yellows
were seen very briefly today, and another flew over the South End yesterday. Considering there has only been one record in the last few years on Bardsey, it has been a fantastic Autumn for this species. At least one hundred
Red Admirals
have passed through the island, coming in off the sea in many places; a small passage of
Silver Ys
has also been noticeable, whilst the odd
Dark Sword-grass
has turned up in the moth traps.
A sample of poo from the Siberian Stonechat may hopefully provide confirmation of the bird's race: DNA samples (usually from feathers) can be used to distinguish the now regular maurus, from the much rarer 'stejnegeri' . There are no reliable external features that can otherwise tell these two races apart, although an overall darker look has been noted in 'stejnegeri'
Siberian Stonechat with Bardsey Bird and Field Observatory on the background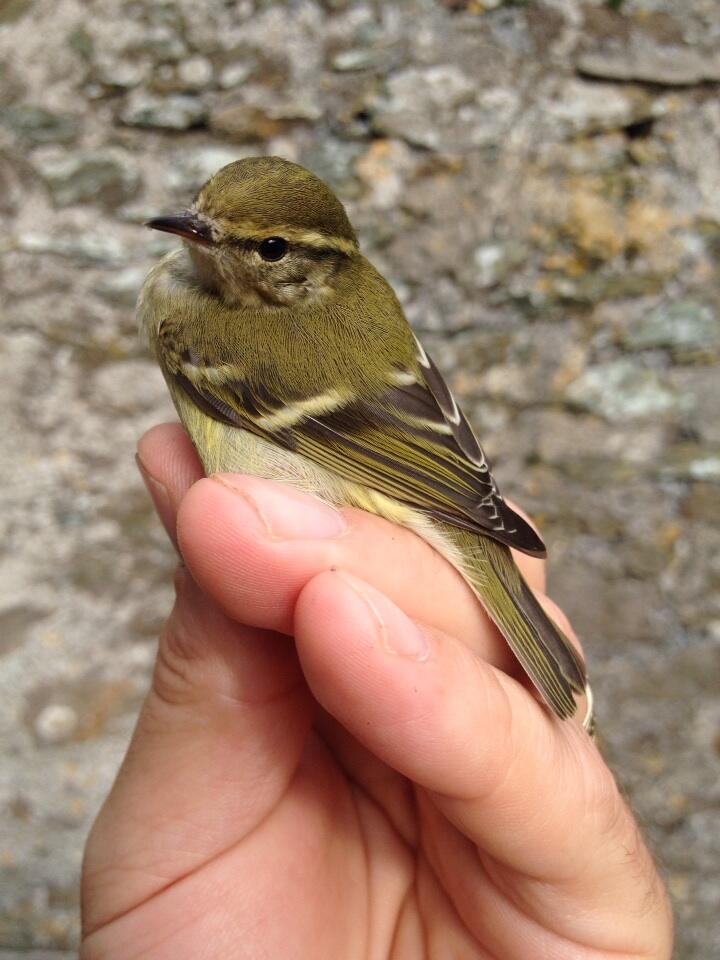 The few Yellow-browed Warblers that have arrived onto the island in the last week have coincided with a large influx of this species into the rest of the UK. Hundreds have been reported from all over the UK in the last few days, with some sites such as Fair Isle boasting over 40 individuals
Silver Ys have been passing through the island with many other migrant lepidoptera
The first Large Wainscot of the year was trapped at Cristin yesterday
At least six Seal Pups are present around the coast of the South End at the moment: some have already started moulting (top), whilst others are just beginning to play around in the shallows of Henllwyn (lower)