March 13th
The day dawned chilly and with a dense layer of fog carpeting the island. This did, however, gradually lift during the day, enabling the usual census of the island to take place in rather pleasant conditions. Four
Redwings
, six
Wheatears
, a
Merlin
, and a
Lesser Redpoll
were noted around the coast in the early hours, the latter of which is new to the year. As the day progressed, a few warblers arrived, with a total of 11
Goldcrests
and eight
Chiffchaffs
recorded.
Chiffchaffs continue to trickle through, although no large arrivals have occurred yet. However, the misty conditions in coming days might prompt some larger numbers 'grounding' on the island
Migrant Meadow Pipit numbers are on the increase, with large flocks amassing together around the lowland areas and around the coast.
The sunny and dry conditions has meant that many wet areas around the island are already drying out at an amazing rate. The retreating water bodies around The Narrows has left some rich muddy scrapes for birds such as Oystercatchers, Rock Pipits and Pied Wagtails (can you see any more?!)
March 14th
Although the day started with freezing fog covering the island for the majority of the morning, the weather gradually improved during the day, and many migrants began arriving onto the island in the afternoon. The first
Sand Martins
of the year flew southward over the island, with two first seen over the Ty Pellaf Wetlands, and another two seen over the South End. Chiffchaff and Goldcrest numbers increased as the day went on, with birds arriving in off the sea and moving north over the island. A total of
28 Chiffchaffs
and 27
Goldcrests
were recorded by the end of the day. A large total of
242 Meadow Pipits
was the highest total so far this year, and included a single flock of 180 in the wetlands. Other passerine migrants noted during the day included eight
Wheatears
, one
Blackbird
, one
Skylark
, one
Goldfinch
, three
Siskins
and a
Reed Bunting
. In other news, a
Merlin
was seen on the South End, the
Hooded Crow
remained on The Narrows, and one
Jack Snipe
and three
Snipe
were flushed from the wetlands.
With all the mist nets now up around Cristin garden, a small number of birds were trapped during the afternoon...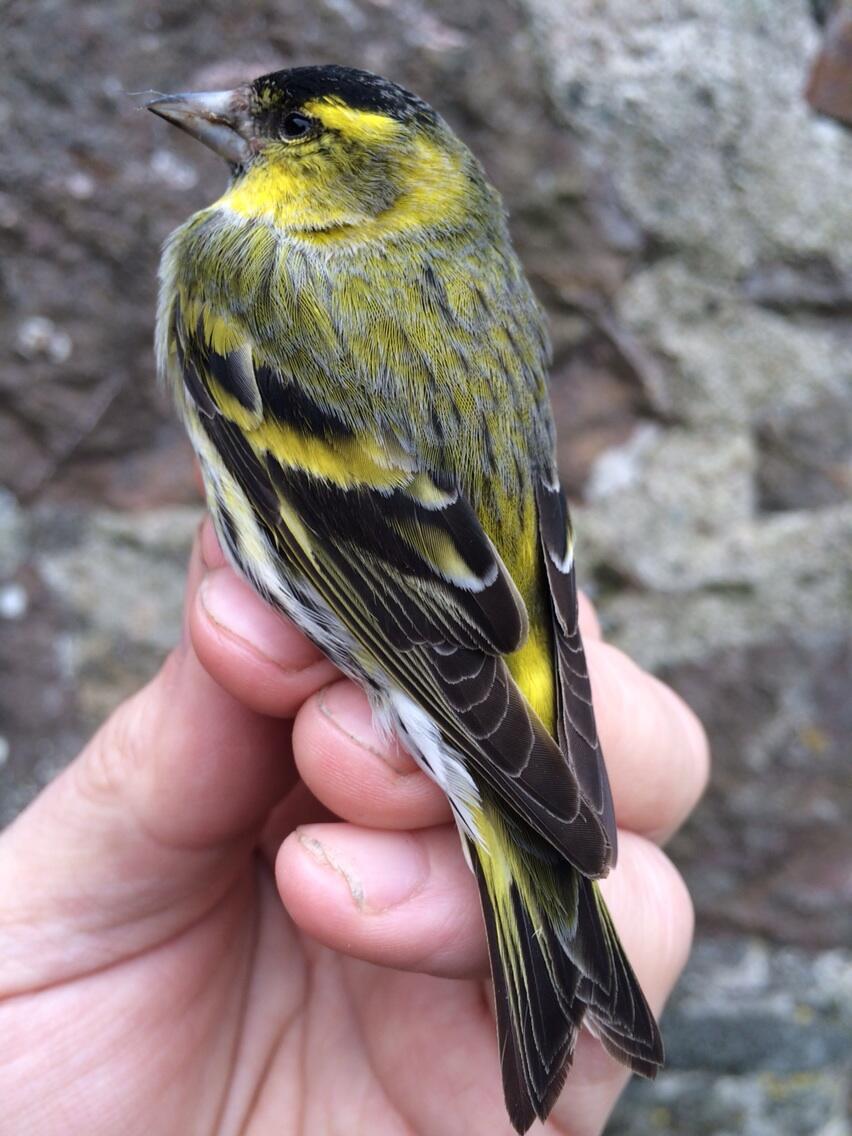 The first Siskin of the year was trapped and ringed, along with a handful of Goldcrests and Chiffchaffs. The first Chiffchaff showing pollen hornes was also trapped, indicating that these birds have come from Africa and Europe
A brief drag-netting session was made mid-afternoon, in an attempt to capture the Jack Snipe. Unfortunately, a Sparrowhawk almost managed to catch the snipe, and so the bird promptly flew off into the distance (understandably!)
Wheatear numbers are increasing, with about six birds seen around The Narrows alone today.
It was a very pleasant afternoon after the freezing fog had lifted