March 15th
A beautiful sunny day saw temperatures rocketing into double figures, although the movement of migrants was not quite as red hot...several large flocks of
Meadow Pipits
were seen flying southward over the Narrows and South End during the morning, amounting to around 226 individuals. A small number of warblers saw a total of seven
Chiffchaffs
and 20
Goldcrests
frequenting the island's gardens, and just a single
Wheatear
was present on The Narrows. A
Merlin
was seen on the South Tip, whilst two
Red-throated Divers
and a
Common Scoter
passed by the island's coast. Overhead, a small movement of corvids involved a
Rook
and six
Ravens
, and the
Hooded Crow
was in its usual situation.
Moths
The first
Common Quaker
and
Silver Y
of the year were trapped in the moth trap at the North End, along with a
Pale Pinion
and a
Parsnip Moth
:
The presence of a Silver Y indicates the movement of migrants, although none have been seen during the daytime as yet. The lower image is an enlargement of the 'Y'
Common Quakers should begin to turn up in the moth traps very frequently in coming days and weeks
Pale Pinion
March 16th
Considering the calm and clear conditions, it was surprising that were so few migrants on the island. Not one Wheatear was seen during the day, and the number of
Meadow Pipits
had decreased into double figures. A single
Chiffchaff
and 18
Goldcrests
were recorded in the island's gardens and withies, along with singles of
Goldfinch
,
Siskin
and
Greenfinch
. Corvid passage in the early hours comprised three
Jackdaws
, three
Rooks
, and the
Hooded Crow
, whilst the usual
Merlin
lay wait for any passing prey on the South End.
In other news, a very, very late, or perhaps very, very early Grey Seal Pup was discovered on the South End! It seemed to have only been a day or so old on discovery, although the mother was not seen during the day. Whether this unfortunate pup will survive is not certain, but it is certainly a record for the island!
On top of the island's breeding Meadow Pipits, migrant flocks of up to 180 birds have been recorded around the island's coast in the last week or so
A single Dunlin has been frequenting The Narrows in recent days, although there are very few other migrant waders on the island at the moment
Only a small flock of about 25 non-breeding Oystercatchers remains in Henllwyn at the moment. The rest of the birds have dispersed around the coast, taking up their positions near their respective nest sites.
Ringing
In other news, we have recently received details of where some of our 'controlled' birds from last year had first been ringed. A control is essentially a bird with a ring on which we have not put on...i.e. it has been ringed somewhere else, by a different ringing scheme. Some of the origins were quite surprising!
Perhaps most unusual was that of a female Great Tit, which was initially trapped and ringed in North Somerset in March 2012. We re-trapped the bird 393 days later, on 20 April 2013. That is a total distance of 199 km; rather a lot for a Great Tit!
We trapped a total of eight Lesser Redpolls which had been ringed elsewhere in the UK last year. The origins of these birds included many different locations, such as Suffolk (372 km away), Merseyside, Shropshire, Lancashire and Wrexham. One of the more impressive controls involved a bird which had been trapped and ringed in Icklesham on 16 October 2011. We trapped the bird two years later, on 1 May 2013, after it had travelled 428 km (as the crow flies).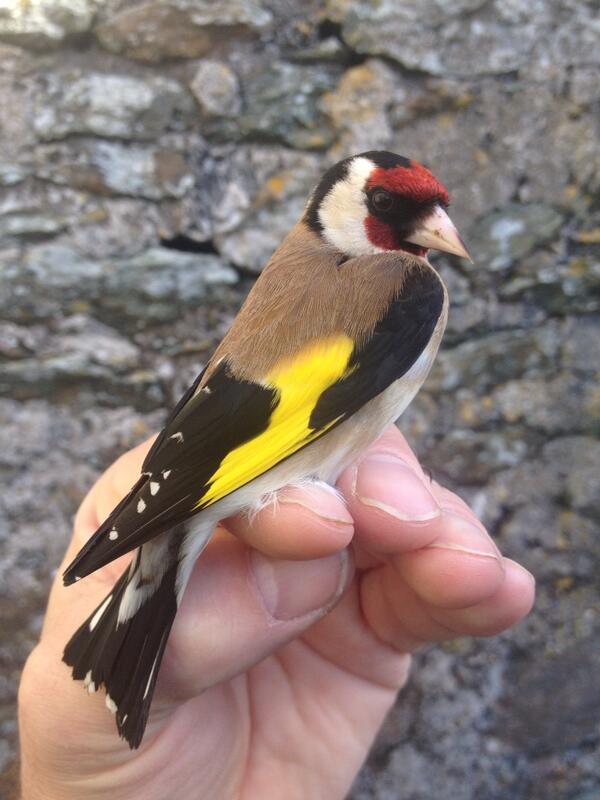 One control Goldfinch involved an individual which had been trapped and ringed in West Sussex. This bird then found its way into a mist net on the island on 22 April 2013.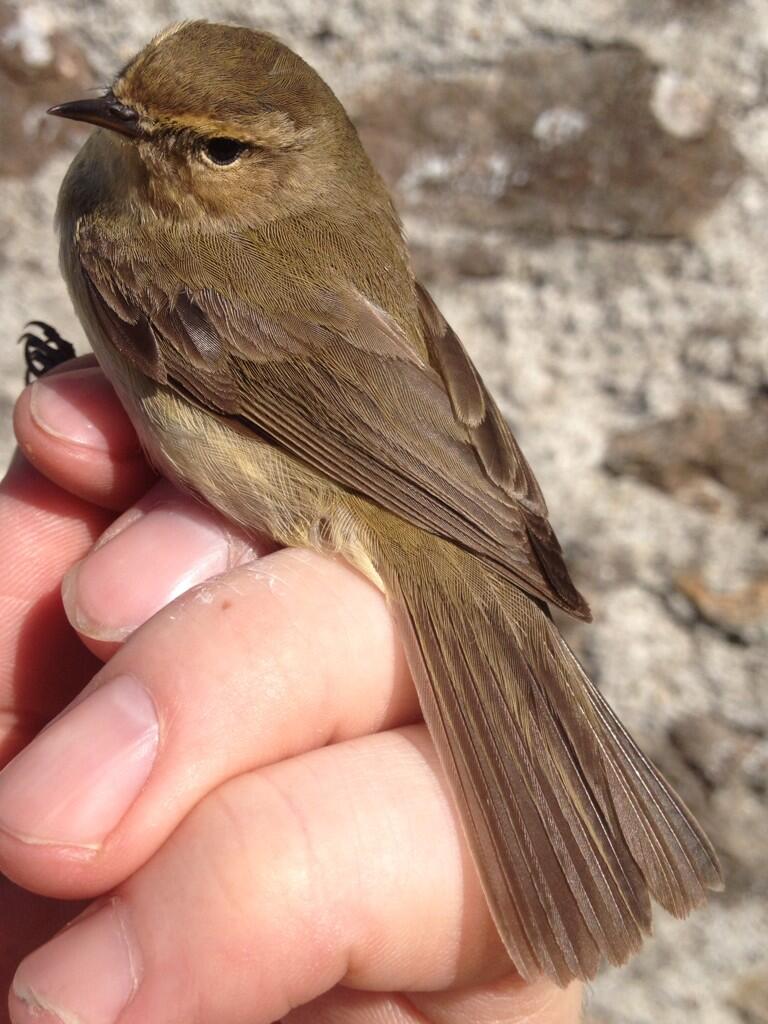 Another interesting recovery concerned a Chiffchaff, originally ringed in Wexford (Ireland) on 23 September 2013. We trapped the bird four days later, after it had travelled 117 km, and amazingly only lost 0.3 grams!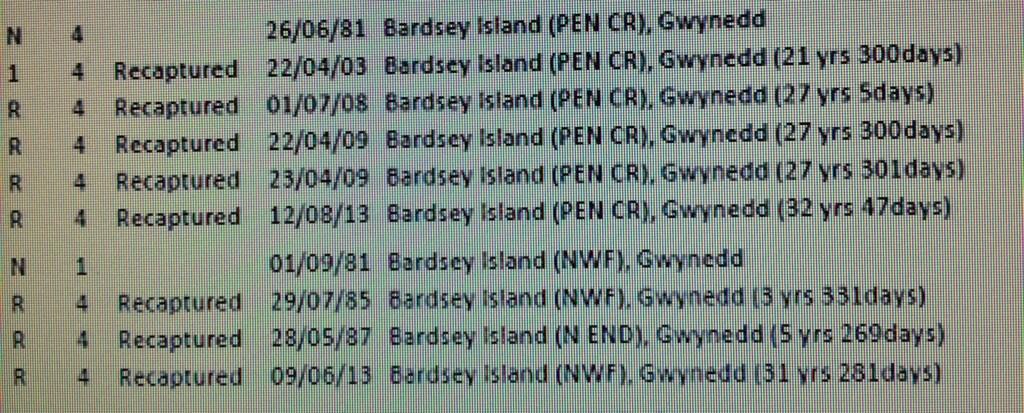 This screen shot outlines the ages of some of the Man Shearwaters which we re-trapped on Bardsey last year. As can bee seen, on of the birds was just over 32 years old! And this age does not take into account the fact that the bird was ringed as an adult. We can therefore assume that is at least 36 years old, perhaps older.