Yet another stunning day with warm easterly winds and plenty of birds to report. Pick of the bunch were two

Yellow-browed Warblers

, one caught at Cristin in the morning with another at Ty Nesaf.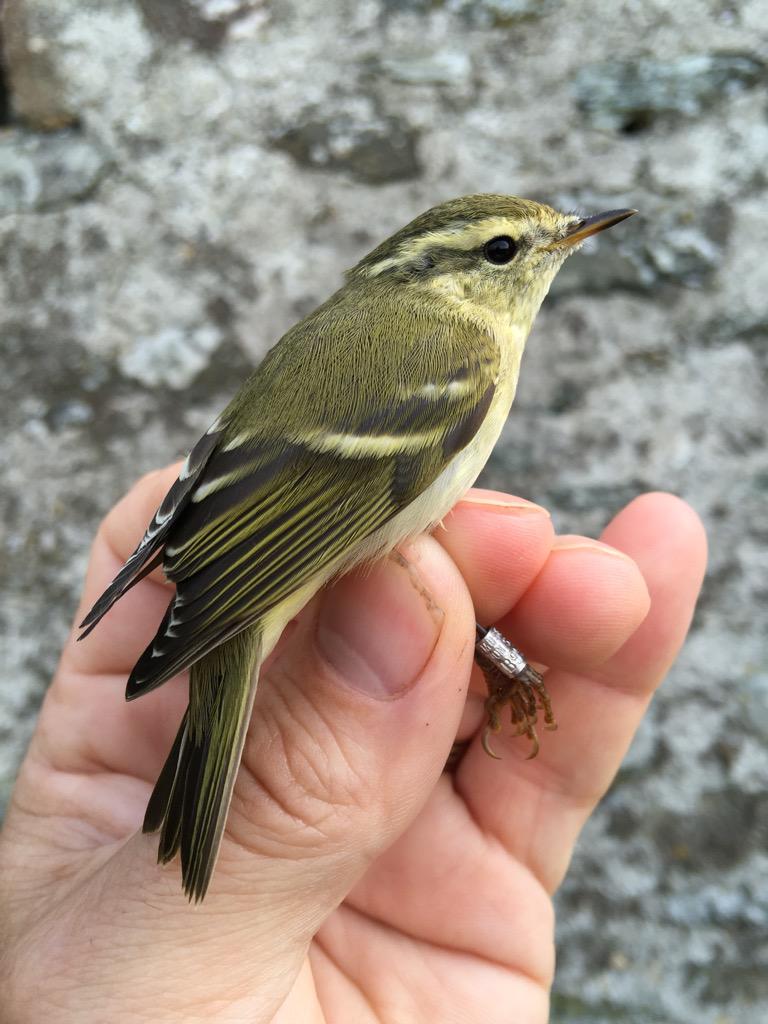 Another Yellow-browed Warbler....
Calm easterlies are not the weather conditions you would usual expect sea passage to occur in but the heaviest skua passage of the autumn passed by. By midday a total of 49 Arctic Skuas and one Great Skua were seen with an additional
Balearic Shearwater, n
ine Manx Shearwaters, 96 Gannets, 13 Cormorants, 63 Common Scoters,
ten Mediterranean Gulls,
313 Black-headed Gulls, 48 Common Gulls, 40 Great-blacked Gulls, 1101 Kittiwakes, one Common Tern, nine Guillemots, 847 Razorbills, and a surprise
Little Egret heading south.
Accipiter passage continues
More action on The Narrows consisted of 40 Oystercatchers, seven Ringed Plovers, one Lapwing, two Sanderlings, two Purple Sandpipers, three Snipes, two Whimbrels, 44 Curlews, ten Redshanks, and 33 Turnstones.
Great Spotted Woodpeckers continue to move through the island with a minimum of five seen today, including one trapped and ringed in the Withies. An excellent variety of other migrants include
two Water Rails,
one Collared Dove,
20 Skylarks, 13 Swallows, 172 Meadow Pipits, 11 Grey Wagtails, one White Wagtail, 75 Wrens, 23 Dunnocks, 46 Robins, four Wheatears, four Song Thrushes, one Reed Warbler, five Lesser Whitethroats, three Blackcaps, ten Chiffchaffs, 22 Goldcrests, one Spotted Flycatcher, six Coal Tits, two Great Tits, 36 Carrion Crows, one Hooded Crow, five Ravens, two Starlings, 76 Chaffinches, four Siskins, 59 Goldfinches, two Lesser Redpolls, and two Reed Buntings.
Birds of prey were also evident once again with five Sparrowhawks, five Buzzards, three Kestrels, and one Merlin.
Juvenile Lapwing on the Narrows