A fresh but calm autumn's morning full of migration followed by a glorious sunny afternoon and capped off with an excellent evening's sunset. Avian highlights a-plenty today, though for many the stunning

Hawfinch

trapped at the Cristin allowed a rare intimate view of this secretive and special species.
Just the 27th record of Hawfinch for Bardsey and the 7th to be trapped on here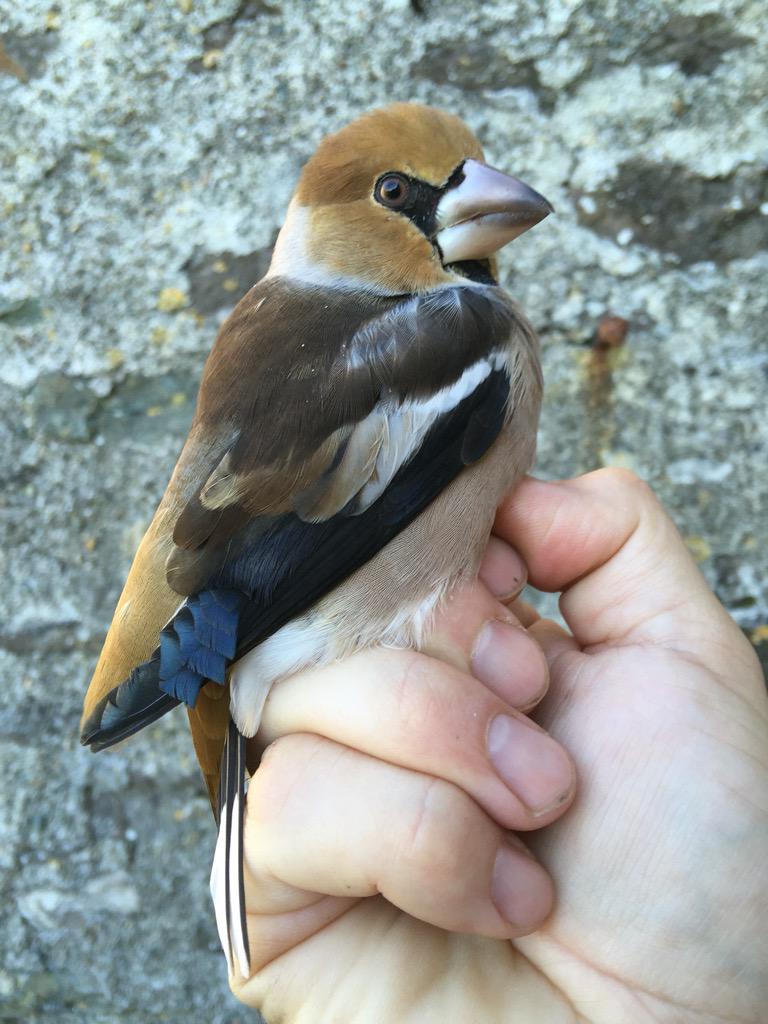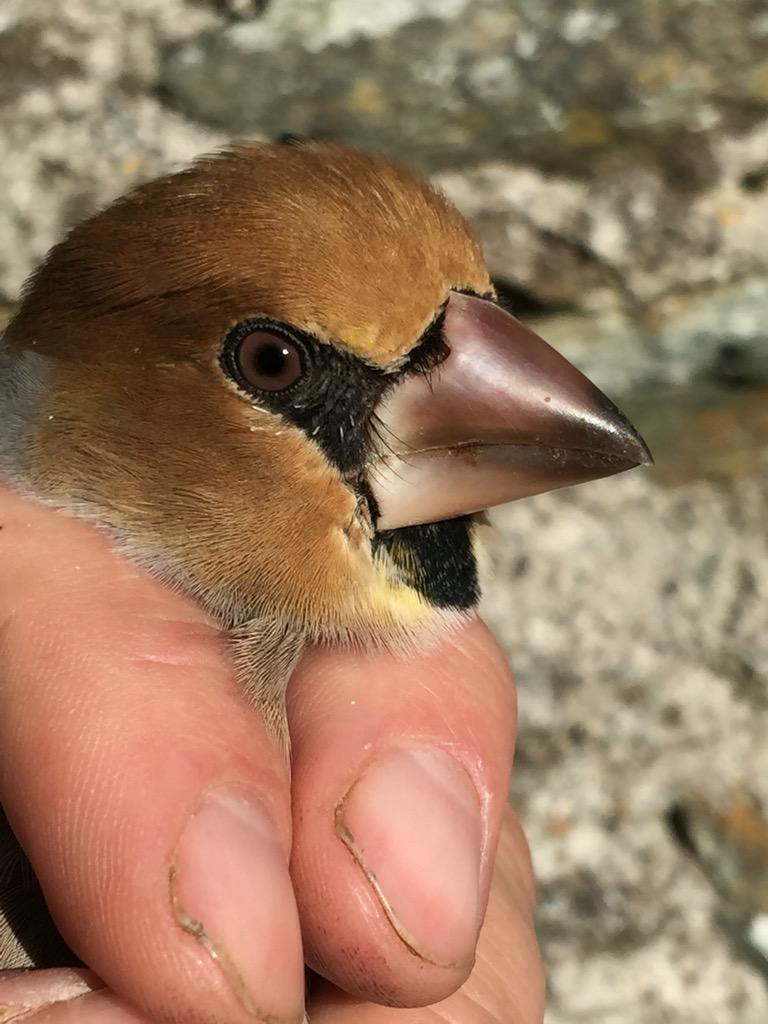 Hawfinch can excert 50kg of force form their powerful bill and can crack Cherry stones!!
Overhead visible migration continued with a single

Richard's Pipit

flying south over the Wetlands, the first for the year. A Snow Bunting over Pen Cristin is the first this autumn, with other counts amounting to 89 Skylarks, three Swallows, four Grey Wagtails, 75 Starlings, 72 Chaffinches, two Bramblings, nine Greenfinches, two Siskins, 69 Goldfinches, 69 Linnets, nine Lesser Redpolls, and two Reed Buntings.
Migrant highlights inland include a mobile Black Redstart, one Ring Ouzel, two Mistle Thrushes, three Firecrests, and two Great Spotted Woodpeckers, in addition to three Sparrowhawks, six Buzzards, two Kestrels, two Water Rails, 39 Oystercatchers, two Snipes, one Whimbrel, 57 Curlews, 12 Redshanks, ten Turnstones, 21 Blackbirds, four Fieldfares, 11 Song Thrushes, 52 Redwings, three Blackcaps, 13 Chiffchaffs, one Willow Warbler, 42 Goldcrests, three Coal Tits, seven Blue Tits, six Great Tits, 42 Carrion Crows, one Hooded Crow, and four Ravens.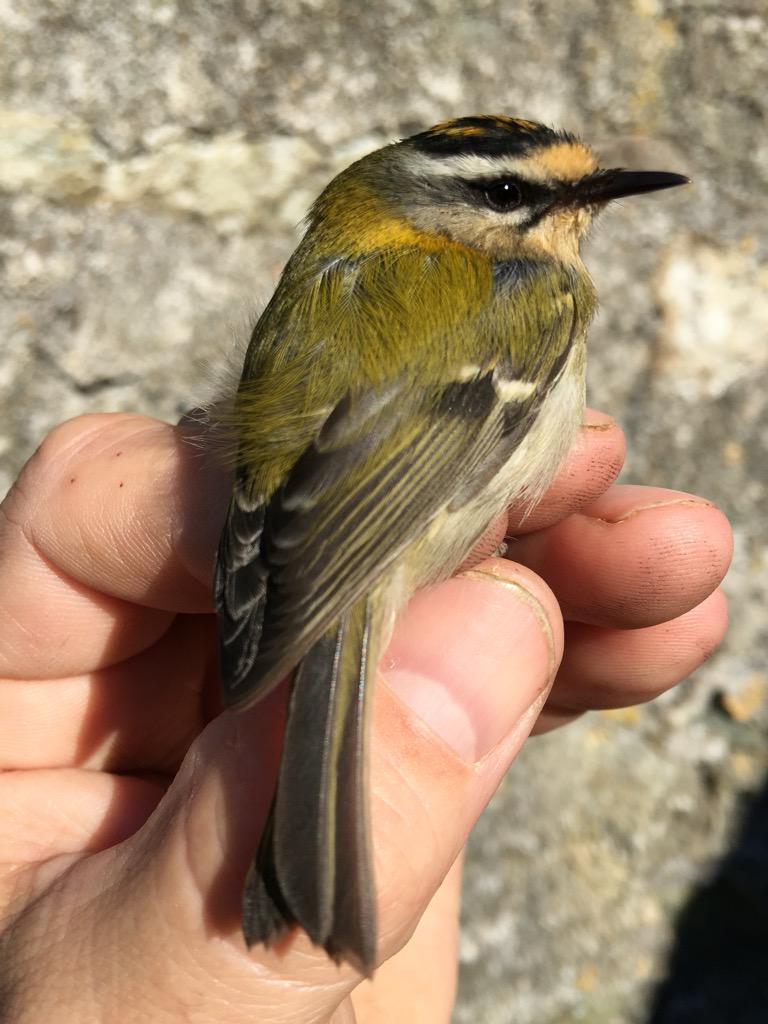 Another Firecrest trapped and ringed - one of three on the island today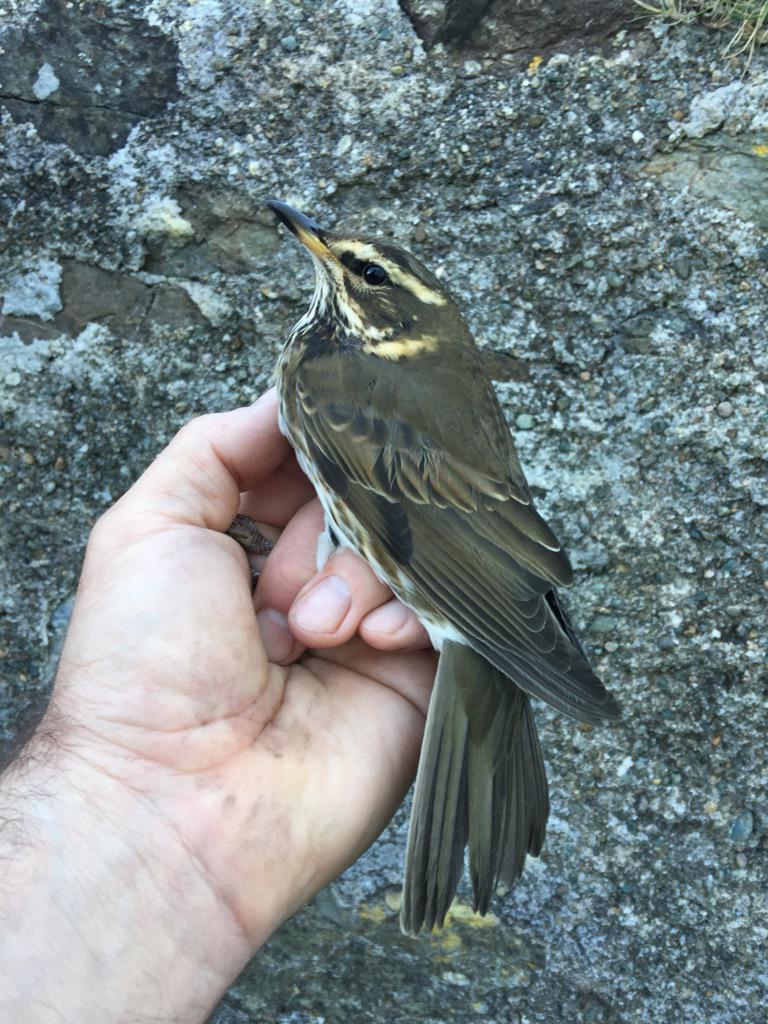 Winter Thrushes started to arrive and today saw the best count of Redwings so far of the autumn as well as the first Fieldfare since the bizarre record in June!
Out at sea one Little Gull was the pick of the bunch that include one Red-throated Diver, 66 Gannets, 29 Shags, two Grey Herons, five Wigeons, 11 Common Scoters, seven Mediterranean Gulls, 2175 Black-headed Gulls, 25 Common Gulls, 1225 Kittiwakes, and 334 Razorbills.
Ravens are being seen daily, with several birds arriving from the mainland, touring the island then departing...
though the Hooded Crow looks set to spend another winter on the island
Several Stonechats were seen again, many were not of 'Island stock'