A cracking day to be out with the first vanguards of spring making landfall. A total of four Chiffchaffs were found soon after dawn filling the island air with their characteristic song but it took to late in the day to discover the lone Wheatear hiding on Pen Cristin. One of the most surprising records of the day though was the herd of six

Whooper

Swans

seeing moving east through the Bardsey sound. This represents the just the second ever spring record, the first since 1987.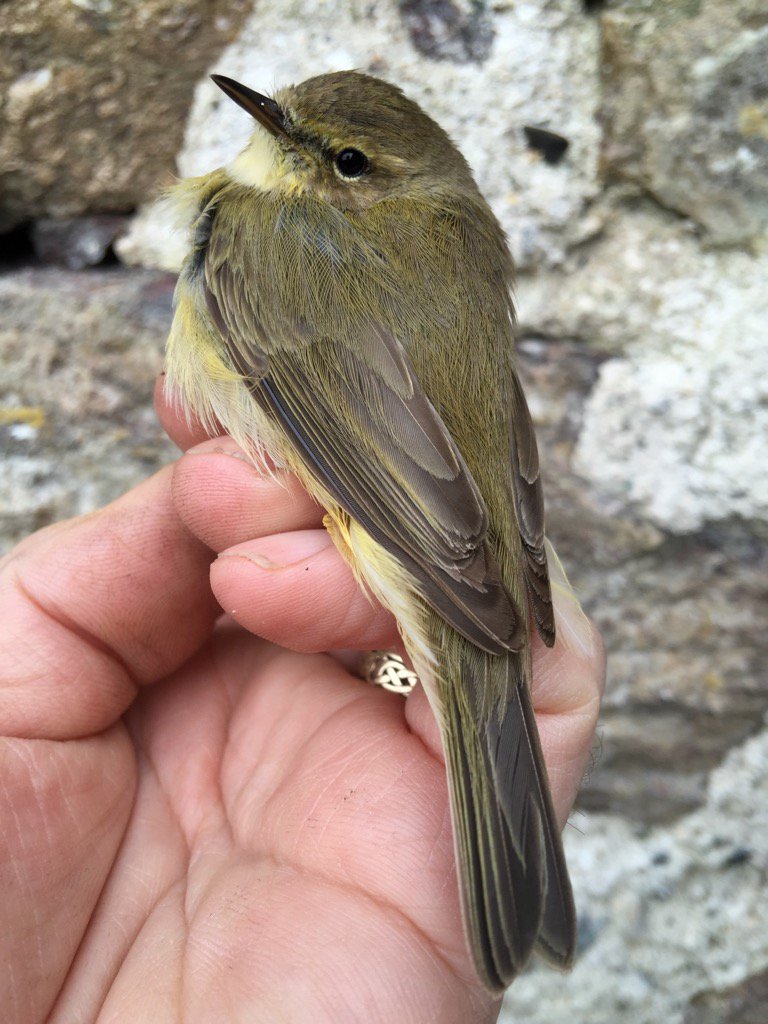 The first Chiffchaff to be trapped this year.
The thick morning fog also seemed to down a decent number of migrants overnight. A single Golden Plover flew over Cristin calling whilst two Mistle Thrushes, 26 Blackbirds, 18 Fieldfares, three Song Thrushes, 82 Redwings, 29 Goldcrests, 1000 Starlings, 98 Chaffinches, and one Reed Bunting were all new in. The Woodpigeon flock at Nant rose to 13 as breeding birds head back and similarly 22 Stonechats was a massive rise on counts this winter.
An impressive 705 Meadow Pipits included a migrant flock of almost 600 at Carreg; no doubt many of Icelandic origin. Asides, the usual Buzzard caused havoc, the Merlin hunted the South End, one Jack Snipe was in the wetland, and two Skylarks passed over.
The Narrows at high tide held 18 Purple Sandpipers, 17 Turnstones, and 25 Rock Pipits (plus two of Scandinavian descent).