It may be almost May but winter struck a firm parting blow today as the island experienced a series of punishing hailstorms. Freezing temperatures and harsh winds all morning gave way to the warm sun of the afternoon, and by the evening, all was calm.
A/the Hooded Crow put in another appearance on the South End whilst a Common Redpoll dropped in briefly at Ty Nesaf. Further finch passage saw one Siskin, 46 Goldfinches, and six Lesser Redpolls around the island.
Similar (but excellent) numbers of waders were still present as four Ringed Plovers, 22 Purple Sandpipers, four Dunlins, one Bar-tailed Godwit, 36 Whimbrels, one Curlew, one Redshank, and 13 Turnstones were seen. The Ring Ouzel in Traeth Ffynnon was still the highlight passerine-wise in a day that recorded five Swallows, five White Wagtails, 19 Wheatears, one Sedge Warbler, one Whitethroat, four Blackcaps, six Chiffchaffs, ten Willow Warblers, and five Goldcrests. Minor seabird movement was highlighted by five Common Scoters and one Puffin.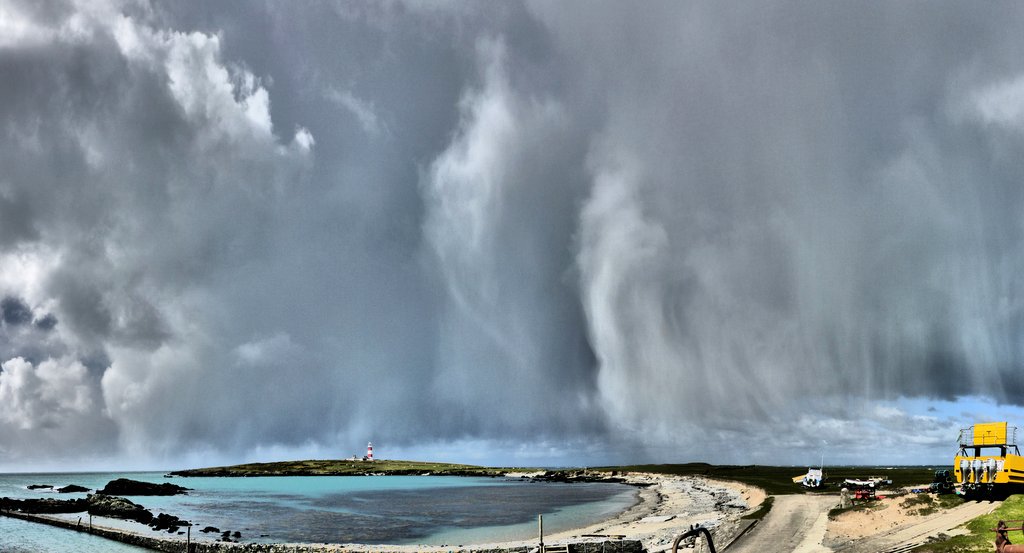 the conditions have been quite atmospheric recently, with dramatic hail showers blowing through with the biting northerly wind
a white South End!! Almost as rare as a Cretzschmar's Bunting on Bardsey
Whimbrel in the snow
Oystercatchers