A

Red-breasted Flycatcher

found in a mist net during a mornings ringing session was a fantastic find of this regularly occurring rare migrant. Just as exciting as a rarity was a good day of passage of more common migrants that occurred today. Thrushes were again present in decent numbers with three Ring Ouzels, 26 Blackbirds, nine Song Thrushes and 26 Redwings logged. The first decent movement on finches was also noted as small groups passed overhead throughout the day and amounted to 100 Chaffinches, two Bramblings, ten Siskins 146 Goldfinches, 71 Linnets and three Lesser Redpolls. Yellow-browed Warblers had dropped to just two individuals however Chiffchaff numbers had risen with 48 seen, whilst other warblers totalled 16 Blackcaps, a Willow Warbler, 38 Goldcrests and the lingering male Firecrest. Robins are still evidently moving through the island with an excellent tally again numbering 52, a female Common Redstart was spotted along the West Coast with 26 Stonechats and two Wheatears logged. The first Reed Buntings of the Autumn put in an appearance passing over Pen Cristin, two Lapland Buntings resided on the South End, pipits and wagtails weighed in at 145 Meadow Pipits, 39 Rock Pipits, six Grey Wagtails, four Pied Wagtails and five Alba Wagtails and other notable sightings were the presence of three Water Rails, a Little Owl, five Skylarks and four Swallows.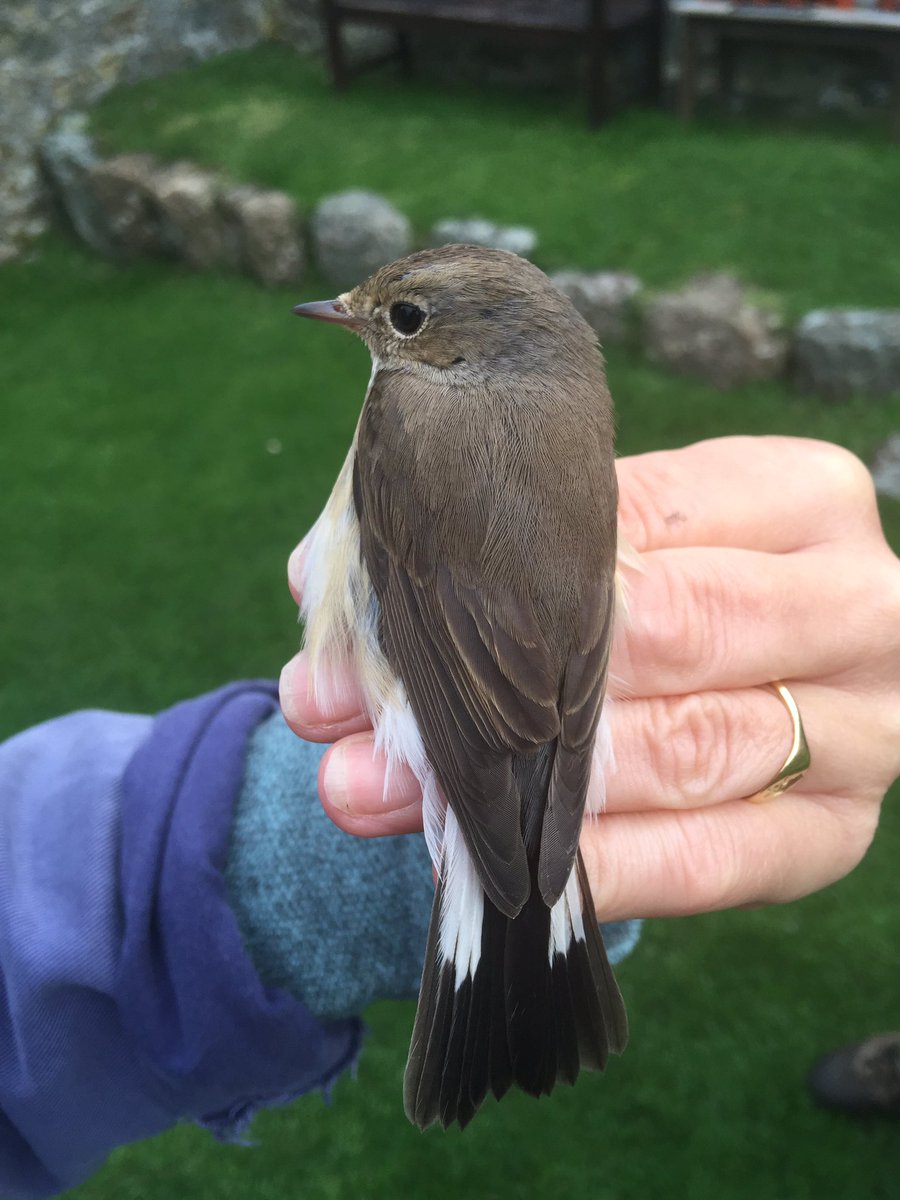 A female

Marsh

Harrier

was pick up on a sea watch off shore and headed quickly south meanwhile a good selection of other raptors were noted across the island including a Sparrowhawk, Common Buzzard, Kestrel, Merlin and two Peregrines. Corvids have started to move in small numbers, with birds from the mainland at this time of year frequently visiting the island from the mainland. Rooks and Carrion Crows formed noisy flocks above the island, in the North West Fields totalling 40 and 52 respectively, nine Ravens soared overhead and 26 Magpies and 26 Choughs were present.
A Passage of Herring Gulls was evident today with birds moving south over the island, peaking by the end of the day at 316 birds. Not so numerous but in good numbers were Common Gulls, of which 38 were noted, whilst two adult Mediterranean Gulls, 20 Black-headed Gulls, four Lesser Black-backed Gulls, seven Greater Black-backed Gulls and eight Kittiwakes were also seen. Off the coasts occupying the bays and ponds inland were six Wigeons, seven Teals and 33 Mallards, and passing by further out were 11 Gannets, 202 Razorbills and 15 Common Scoters.
A Woodcock sneaking through the grass adjacent to the Plantation was the pick of the waders today although others were noted in reasonable numbers. A pair of Common Snipes were flushed further south on the land, a single Dunlin occupied Solfach whilst another was seen off the South End, two Ringed Plovers rested on the rocks just off the coast and two Whimbrels, 53 Curlews, eight Redshanks 39 Turnstones and 26 Oystercatchers were also logged.
Bizarrely a count of 71 Red Admirals, exactly the amount seen the previous day was again the total, a Large White flitted in one of the gardens to the north of the island, a Hummingbird Hawk Moth zipped around the Observatory and 18 Green-veined Whites, three Painted Lady's and five Silver Y's were also counted.