A fine selection of grounded migrants was noted on the final day of August, while numbers were generally unspectacular there was an excellent diversity of species recorded. The three commonest migrants tallied were 143
Linnets
, 140
Meadow Pipits
and 100
White Wagtails
, with 71
alba Wagtails
also seen. In the trees and scrub there had been arrivals of 64
Goldcrests
, 45
Willow Warblers
, 34
Chiffchaffs
and 25
Robins
, with an entertaining mix of other species highlighted by an elusive
Wryneck
around the Obs garden. Nine
Whitethroats
, nine
Blackcaps
, four
Sedge Warblers
and a single
Grasshopper Warbler
were the best of the Warblers on offer, while 18
Wheatears
, four
Spotted Flycatchers
and singles of
Firecrest
and
Whinchat
, the latter the first of the autumn, were also logged. Also of note, and quite possibly indicative of arrivals of both species, were counts of 22
Stonechats
and 17
Dunnocks
, though both totals are within the margin where very thorough recording of the islands resident birds could account for them.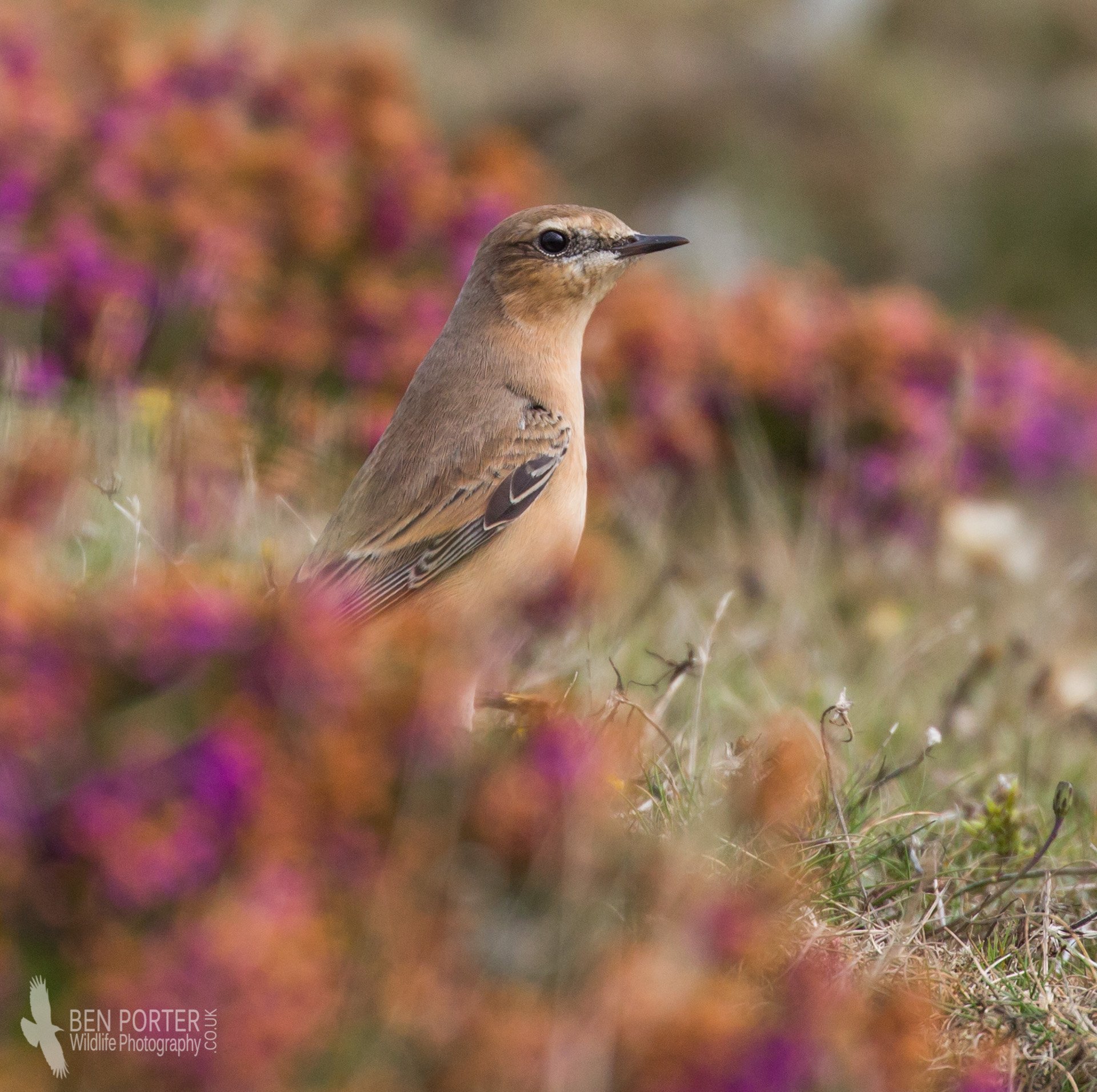 juvenile Wheatear, Ben Porter; benporterwildlife.wordpress.com
Overhead it was also pretty busy, with 171
Swallows
, 63
House Martins
, 14
Grey Wagtails
, five
Tree Pipits
and a single
Sand Martin
moving through. Clear skies encouraged a good selection of raptors to be recorded today, with three each of
Sparrowhawk
,
Kestrel
and
Peregrine
and singles of
Merlin
and
Buzzard
.
The sea recieved limited attention today, but enough to reveal that little was on the move. Five
Arctic Skuas
south were probably the highlight, while 36
Common Scoters
south was also our best passage for a few weeks. Otherwise modest totals of 106
Manx Shearwaters
, 56
Gannets
, 32
Shags
, 28
Lesser Black-backed Gulls
, 18
Fulmars
, ten
Razorbills
, two
Sandwich
and one
Arctic Tern
and a single
Black-headed Gull
were logged, while four
Risso's Dolphins
was the only cetacean sighting.
Some of the classic lepidopteran migrants also had a good day, with 30
Red Admirals
, 13
Painted Ladies
, three
Silver Y's
and a
Hummingbird Hawk-moth
on the wing. The moth trap was very quiet apart from a
Delicate,
the eighth record for Bardsey and first since 2014. Seven
Speckled Woods
was the highest count of the year, including one at the Obs, away from the main colony at Nant.