September began with another fine day's birding on Bardsey, as migration finally begins to gather some pace. As in most recent days, most movement was logged on land. Today's most numerous migrants were 270
Linnets
and 206
Meadow Pipits
, both showing obvious increases, and the highest count for either species this autumn. 83
White Wagtails
also passed through the island, with 69
Goldcrests
the best count of a good early autumn passage so far. Also recorded in excellent numbers today were 45
Grey Wagtails
through overhead, our highest total so far this year. Overhead passage was well represented, with 235
Swallows
, 85
House Martins
and a single
Sand Martin
, 20
Alba Wagtails
, six
Tree Pipits
and an excellent total of six
Flava Wagtails
, plus a single
Yellow Wagtail
seen on the ground. A warm and sunny afternoon encouraged a burst of raptor passage too, with three each of
Buzzards
,
Sparrowhawks
and
Kestrels
, two
Peregrines
and, best of all, two
Hobbies
passing south along the West Coast. Nine
Ravens
were again seen thermalling over the Mountain.
In the bushes, Warblers were low in numbers but in decent diversity, with 24
Willow Warblers
, 14
Chiffchaffs
, six
Whitethroats
, four
Sedge Warblers
, four
Blackcaps
and two
Grasshopper Warblers
. A single
Firecrest
also remained in the Plantation, with 12
Spotted Flycatchers
, 21
Robins
, 17
Wheatears
and two
Whinchats
also logged. A
Wryneck
on the mountainside above Plas may have been yesterdays bird relocating, and was seen briefly but well by a couple of observers.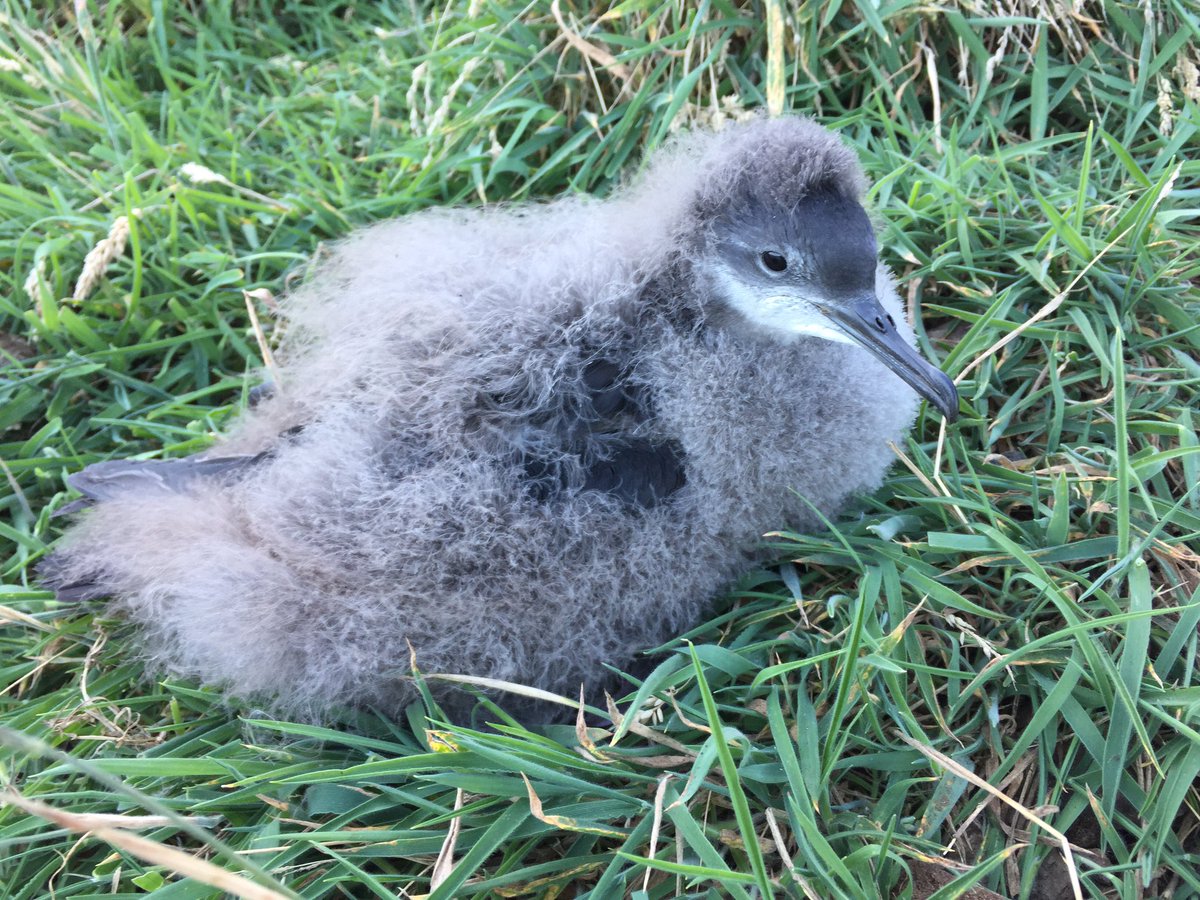 Manx Shearwater chick- Josie Hewitt
Waders were low in number but with quite a few interesting sightings amongst them. The only notable count was 19
Redshanks
, with
Oystercatchers
and
Curlews
numbering just 20 and 13 respectively; the latter species in particular seems to have passed its peak migration. The other regulars were represented by seven
Ringed Plovers
, six
Turnstones
, four
Dunlins
and four
Whimbrels
, while a single
Common Sandpiper
on Solfach was the first for over a week. Singles of
Curlew Sandpiper
and
Greenshank
also moved south through the island on a good day for wader diversity.
Seawatching was again quiet today, with 1169
Kittiwakes
the only large count, however one of the highlights of the day was a first-winter
Sabine's Gull
in amongst them. Otherwise just 52
Gannets
, 48
Razorbills
and 43
Shags
provided some noteworthy numbers. Other species logged were a paltry 16
Manx Shearwaters
, plus 13
Black-headed Gulls
, 11
Fulmars,
six
Sandwich terns
, four
Arctic Skuas
and a single
Common Gull
.
Non-avian sightings of any note were quite few and far between. 25
Red Admirals
and three
Painted Ladies
were the only real signs of immigration, while a season high of 10
Speckled Woods
were recorded at Nant. Cetaceans recorded today were eight
Risso's Dolphins
and a single
Harbour Porpoise
.