Three

Yellow-browed Warblers

were present with one in the Withies and two at Nant.
Two Firecrests were also seen at Nant, including a smart male showing down to a few feet at times. This female was trapped and ringed in the evening (below).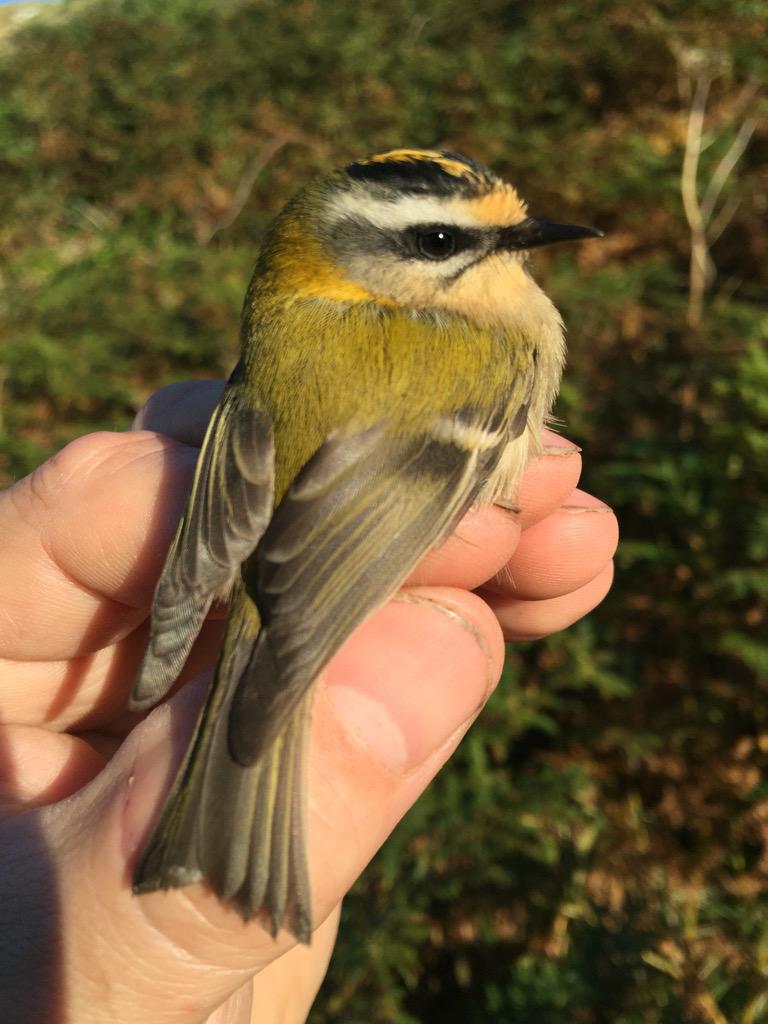 Sea passage amounted to four Fulmars, one Manx Shearwater, 115 Gannets, four Wigeons, five Teals, 11 Common Scoters, four Arctic Skuas, one Great Skua, 2100 Black-headed Gulls, 16 Common Gulls, 3300 Kittiwakes, and 310 Razorbills.
Yesterday's Mistle Thrush put in a brief appearance and
two Great Spotted Woodpeckers were mobile across the island. Waders noted today include one
Jack Snipe, one Snipe,
nine Ringed Plovers,
one Golden Plover,
one Dunlin, seven Redshanks, and 15 Turnstones.
The evening's migrant tally read three Sparrowhawks, five Buzzards, three Kestrels, one Water Rail, one Collared Dove, 37 Skylarks, ten Swallows, eight House Martins, 165 Meadow Pipits, eight Grey Wagtails, 13 Pied Wagtails, 13 Wheatears, two Song Thrushes, two Reed Warblers, five Blackcaps, 23 Chiffchaffs, two Willow Warblers, 32 Goldcrests, one Spotted Flycatcher, 21 Coal Tits, three Great Tits, two Starlings, 57 Chaffinches, eight Siskins, 22 Goldfinches, and five Lesser Redpolls.
A Clouded Yellow on the South End was the first of the year and part of obvious Lepidoptera movement through the island currently. A Comma was in the Green Lane, whilst 87 Red Admirals and 181 day-flying Silver Y's were logged.